How to sell Transformers
These simple steps for selling Transformers will transform your toys into cash fast!
In a rush? Felling overwhelmed? Not sure where to begin? Contact us, we're here to help!
-Phone/Text: (352) 870-2888 (ask for Matt)*
*Note: We may be brief on account of our 3 small children :)
-Email: offers@transformerland.com
-Skype: transformerland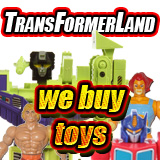 We purchase vintage and modern, new and used Transformers toys. Get started with 3 easy steps:
Photograph or List Your Toys: Use our powerful online app to identify toys and match accessories, or take photos and we'll do all the legwork! Guidelines for photos and lists are outlined below.
Submit Images or List: Next contact us by email, text, skype, or facebook message and include your list or photos. Email: offers@transformerland.com, Text: (352) 870-2888, Skype: Transformerland, Facebook.
Get Your Quote: Our turnaround time is typically just a few hours, and can pay before you ship! Feel free to call us if you need help sooner at (352) 870-2888. Ask for Matt.
For more details about the selling process, as well as testimonials and feedback, continue reading below. We look forward to hearing from you!
Why sell to Transformerland.com?


Firstly, give us a call, or drop us a line, we're super nice =) What do you have to lose?


We maintain a comprehensive, up-to-date online price guide for Transformers and other action figures, so you know what your toys are worth. Who else does that?


We've built the most heavily used system for easy identification of Transformers and other action figures.


Our Toy Guides & Wiki Archive is an all-in-one stop to learn about toys - a checklist of all toys in each series, a listing of accessories for each figure, and tens of thousands of pictures, all taken by us, in house!


We are trustworthy and reputable as evidenced by the following factoids:
Fact is we offer the highest prices around because we sell more volume than anyone, which means our profit margins can be slimmer than other dealers!
WHAT DO WE BUY?


Transformers from any era:

- G1 (original 1980s Transformers)

- Pre G1 (Diaclone, Micro Change, Takatoku, etc.)
- Post G1 (G2, Beast Wars, Machine Wars, RiD, Commemmorative series, Universe, Classics, Movie Toys, Generations, Combiner Wars, etc.)

Gobots
GI Joe
Godaikin
He Man/Masters of the Universe
Silverhawks
Star Wars
Teenage Mutant Ninja Turtles
Thundercats
Voltron
Much more, ask us!
WHAT'S IT WORTH, HOW DO I GET PAID?

We determine value based on the supply and demand for any particular figure, the condition, and completeness, contact us by email or phone/text for a quote. We can work from lists or pictures.


Here are some guidelines for pictures:
- Group shots are fine, 20 or so items per picture
- Picture accessories and figures separately
- Spread out items, pictures of parts piles are not helpful =)
- For the most accurate evaluation, picture EVERYTHING, especially accessories as they are crucial to the value of most toys.
For lists, include the following details if possible:
- Name of figure
- Toy line (also series and subgroup if needed for disambiguation)
- Sealed, opened, or loose without packaging
- Missing accessories

Note: Completeness is by far the LARGEST factor when it comes to value of loose toys.

- Description (discoloration, sticker quality, joint quality, breaks, rust, etc.)

If your lot is too large to list, please contact us by email or phone for further instructions
-Phone/Text: (352) 870-2888 (ask for Matt)*
*Note: We may be brief on account of our 3 small children aged 5 and under, so if that happens please take no offense, lol! You can also try emailing us ;)
-Email: offers@transformerland.com
-Skype: transformerland