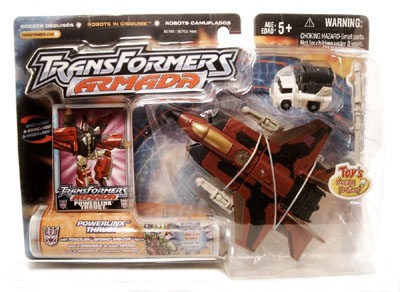 Please Note: This reference image may vary from the actual item for sale, please refer to the condition desciption for particular item details.
Packaged, not sealed Transformers® Micron Densetsu Super-Cons Powerlinx Thrust
---
TFL SKUm#:

181157
Condition:
Packaged but not sealed (inner packaging is included), complete. Paperwork included: Instructions, Tech specs/stats card, Comic. Missing parts/accessories: None. Box condition/other notes: has been opened but displays as sealed, no damage to backer, bubble wraps around backer and holds in place nicely. Unless stated otherwise, item is considered to be in excellent condition (see video) and guaranteed original and not a knock-off. Actual item was reviewed on our Youtube channel as part of inventory preview series 15-12.
Year: 2003
Series: Micron Densetsu
More Info: Collector's Guide Page
In stock!
Available Quantity: 1
$
65.00