Diaclone is arguably the seminal series from which the whole of the transforming robot craze began. Earlier series had featured changing robots, but Diaclone embraced it, and made the feature its single central purpose. As Takara was riding high off the popularity of its venrable Microman series, they decided to reduce the scale of the figures in exchange for the ability to focus more on vehicles and mecha. In this vein, they hatched the idea of Inch-Man, a one inch tall version of Microman. However, the series concepts diverged, and by its release Diaclone became separate from the Microman universe of fiction.
Early Diaclone toys featured science-fiction vehicles that could combine or transform into various mecha piloted by the tiny figures. The Diaclone Corps was pitted against the evil Waruder Army, whose few mecha were themed around insect-like creatures. The initial toys were designed by Shoji Kawamori and Kazutaka Miyatake, who were established mechanical designers contracted to Takara from Studio Nue. Both would go on to work on the landmark anime Macross, perfecting what they had learned about transformable mecha design.
After a time, however, Koujin Ohno took the spotlight when he penned and proposed the Car Robots subseries. This series moved from sci-fi into plausible reality by having the mecha disguise themselves as ordinary contemporary vehicles. The series exploded in popularity, and shifted entirely to the various "Real & Robo" subseries, such as Train Robo, Construction Robo, and Jet Robo.
As the popularity of Diaclone waxed, Takara realized that the interaction of the drivers were decreasingly a part of the toyline's success. At long last, they dropped the driver interaction in order to open up the range of scale that could be used. The result were toys that were out of the purported 1:72 - 1:60 scale range, but could represent larger real-life vehicles at a lower price point. This in turn facilitated the first "true" combiners: mecha that could change between a vehicle or robot, and also combine with other figures into a larger robot.
Though Diaclone remained strong into 1984 (having even germinated the transforming "real" objects back into Microman [see Microchange]), Hasbro's fateful decision to market the same toys as Transfomrers spelled the end. Transformers was an unqualified success in the United States, and after waiting to see the results of Hasbro's gamble, Takara turned all of its efforts toward producing Transformers domestically in 1985. As the Transformers fandom has become more aware of Diaclone, many homages and references have been made within the Transformers product line. Diaclone is held in a special place of reverence by most Transformers fans due to its connection to G1, and its rarity outside of Japan. Samples of Diaclone toys can fetch exorbitant sums of money on the secondhand market, almost always more than their widely-distributed Transformer counterparts.
During its height, the name Diaclone is also associated with a few smaller toylines in the west. Diakron was Takara's attempt to market their new transforming vehicles directly. After only seven toys, distributed via specialty toy and hobby stores in 1983, the line died out. Not long after, Takara tried their luck again with Kronoform, focusing on many of the earlier Diaclone toys not selected for Transformers use. This line, too, quickly faded. Takara had some greater success in continental Europe, where French licensee Joustra and Italian GiG produced spinoffs like GiG's Trasformers [sic] / Diaclone. These were direct ports of the domestic series, and both blended in to the Transformers wave when it swept across Europe in 1985.
Transformerland's TFL Blog has exclusive high-res scans and full English translations of many of the Diaclone product catalogs, Which provide a wealth of further reading. Click the cover images to link to the full articles!
1980 Catalog

The first Diaclone catalog was released in 1980 with the premier wave of product. It introduces us to the story of discovering Freezon Energy deep in Earth's core, and the imminent threat of the marauding Waruder Army, who ravage worlds to acquire more Freezon. Earth unites to form the Diaclone Corps and defend itself from the Waruder assault. The toys featured are the Robot Base, Dia-Battles, Cosmo-Roller, Dia-Train, and the Power Bases.

1981 Catalog

The second Diaclone catalog introduces the Waruder Army's side of the origin story, how their advanced science led to an arrogant entitlement to the universe's Freezon. The toys featured are Robot Base, Big Powered, Gats Blocker, Warudaros (the first Waruder-aligned toy), Dia-Attacker, Dashers, Power Bases, Dia-Battles, Dia Train, and Cosmo Roller.
1982 (early) Catalog

The third full-size catalog heralded in a sea change in Diaclone. Having apparently fended off the first wave of Waruder Army assault troops, Diaclone Corps designs mecha that can be disguised as normal vehicles to blend into the population and patrol for Waruder incursions. The toys featured in this issue are Fortress Robot X, Gats Blocker, Walk Insector, Warudaros, Robot & Robo, Sky Base, Robot Base, Big Powered, and the first two Car Robots: Countach LP500S Super Tuning and Cherry Vanette.
1982 (late) Catalog

Revised and expanded for later releases in 1982, this catalog retraces the steps of the previous catalog. After a crippling blow to their headquarters, Diaclone Corps prepares to attack the Waruder lunar base while defending against incursions on Earth using mecha disguised as real vehicles. The toys featured in this catalog are Fortress Robot X, Battle Buffalo, Gats Blocker, Walk Insecter, Warudaros, Twin Combat, Double Soldier, Sky Base, Robot Base, Big Powered, and the first six Car Robots.

1983 Catalog

Diaclone Corps reconstructs their base while Waruder guerrillas begin constructing new mecha right on Earth! Diaclone Corps gets wind of this, and builds even more disgused combat robots to patrol for Waruder attacks. The catalog is replete with large airbrushed art scenes. The toys featured in this catalog are the first 12 Car Robots, Train Robo, Jet Fighter F-15 Eagle Robo, Change Attackers, [Baku-Ten] Attack Robo, and the Insecter Robo.

1984 Catalog

This catalog tells us of the dissatisfaction of a young Waruder general named Blue Star with his predecessor, Ingam. Blue Star travels through time to raise an army of dinosaurs. In response, Diaclone Corps builds a series of mecha Dinosaurs with enough might to fend of the threat. Diaclone is most heavily focused on realistic vehicles by this point, excepting the rather fantastic Dinosaur Robo. Toys featured in this catalog are the Car Robots, Bakuten Attack Robo, Construction Vehicle and Train Robo, Dinosaur Robo, Double Changers, Change Attackers, Jet Fighter F-15 Robo, Fortress Base X, and the Insect Robo.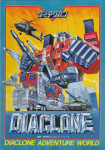 1985 Catalog

Coming Soon!