By 1984, it was clear that Takara's long-running Microman toyline was at an end. Transformers G1 was having huge success in the United States, and Takara was gearing up to follow suit for 1985. However, a few more transforming robots were released in the Microchange sub-series. Transformers picked up almost all of these designs, as famous characters like Megatron, Soundwave, and even Bumblebee. For some reason, only a few were left behind, such as Binocular Robo Scope Man.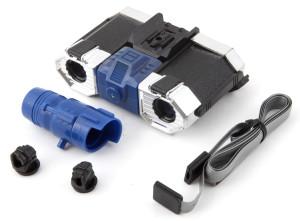 Scope Man is right along the same vein as Camera Robo Microx (Reflector) and Microscope Robo (Perceptor): a child-scaled "real" item with rudimentary plastic lenses. Scope man comes with a strange group of accessories, including removable fists, an "Optical Bazooka" containing a kaleidoscope-like lens, and a detachable rubber neck strap. His binoculars mode is somewhat sci-fi influenced, but still pays some attention to detail. The lenses are ringed with large chrome areas, and the body is textured like the rubber gripping area of a real device.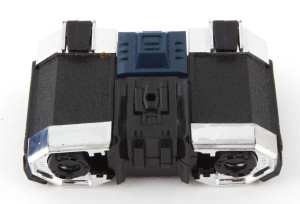 His transformation is about on par with his contemporaries in complexity. His arms are concealed within the lens tubes, and revealed as the outer shell is extended down to form the parachute-pants-like legs. His fists plug into the ends of the tube-like arms, and his head rotates up from his chest. The robot's bizarre proportions are unlike any G1 toys of the time, and perhaps the reason why he was not selected for inclusion. His head features a silver-painted face, with small antennas and a mouth cover typical of the period.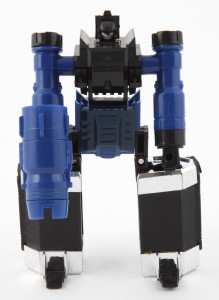 The sample we've photographed is actually a close counterfeit from "Practical Micro Change Series" released in Western countries. His box is even designed somewhat like the Takara box. The knockoff box eschews Takara's box art in favor of a product shot, however.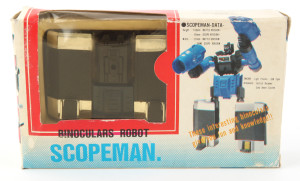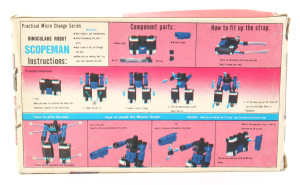 So, the big question remains: what if? What if Robo Scope Man had been selected for Transformers? What faction would he have been part of, what would his name be? I feel as though Movie 1's Farsight T-20 may give a suggestion, but who knows? Leave a comment on how you would have included Robo Scope Man into G1.