Moderators: Time Traveller, Blackjack
Custom Rank 4 U! Ask an Admin!
Posts: 8745
Joined: Wed Jul 12, 2006 12:00 pm
Location: Kolkular
*In reply to Scrapper*

"Meet us at Iacon, there are Autobots to crush!!"
Decepticon Communications Officer
Posts: 696
Joined: Mon May 12, 2008 5:35 pm
Location: New York
*soundwave heads back to base to report to megatron*
"lord megatron I sent laserbeak and buzzaw to follow megatron and I am heading back to base "
Father Time (Admin)
Posts: 6398
Joined: Mon Dec 29, 2003 1:12 am
Location: 90482 Orcus
Contact:
OOC: Uh... How do you know there's Autobots at Iacon?

Decepticon Commander
Posts: 4223
Joined: Wed Aug 13, 2003 10:46 pm
Location: The dark corners of CHARR
Knightshade wrote:* I watched as Galvatron took the Dark Matrix, then took off. He was being followed by several of the others, though Dirge and Rumble were unsure of weather or not they should follow him or not. I found that it was a mistake to hand it over and I quickly transformed after exiting the tunnels and took off after him. Once in the air I warped ahead of him and unwarped infront of him.*

"Hold it Galvatron, If you think you can control the Dark Matrix You are wrong. Let me tell you more about it before you go on a power trip and get yourself destroyed because you didnt understand its power." I said looking at him with no fear in my optics
Galvatron shows anger in his face for the interuption.....
I am the spawn of UNICRON!
I AM danger!!
I AM power!!!
I AM destruction!!

You want the matrix for yourself!!
IT'S MINE MINE MINE!!!
It's my precious matrix
Galvatron continued his flight leaving Nightshade behind.
Not knowing that Scourge was close behind him....
CLICK_HERE
Autobot Scientist
Posts: 1877
Joined: Tue Jul 31, 2007 10:40 pm
Location: Cybertron
Contact:
Scourge, having witnessed the explosion of Galvatron and Megatron's disappearance, decides to move back under Cybertron. He transforms back to robot mode and begins his journey back inside Cybertron, not knowing what he might find. The Decepticons are a mess, they have no leader and no place to recuperate. Scourge knows he will find solitude underneath Cybertron, never to be bothered by Autobots again.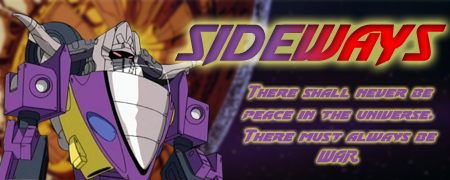 Autobot Scientist
Posts: 1877
Joined: Tue Jul 31, 2007 10:40 pm
Location: Cybertron
Contact:
Scourge, haven fallen into stasis lock under Cybertron, reawakens from a signal sent out by the other Decepticons. He gains his bearings and retraces his steps, finding his way out of the tunnels. He finally does, and transforms, moving towards the last known location of the signal.