*Back in the Decepticon City, the view screen crackles into life on a different channel to what Megatron is using. Rumble appears.*
"
Hey Deszaras, this is Rumble. We have located and secured a solar power station and have begun Energon cube production. We tested the Energon and it seems to be stable for transport back to Trypticon. Any chance that you could send Blast Off to come pick some cubes up? Err... I am going to go test some more Energon... so... heres the co-ordinates.
"
*Rumble flicks a switch off screen and his image is replaced with a series of co-ordinates.*
_________________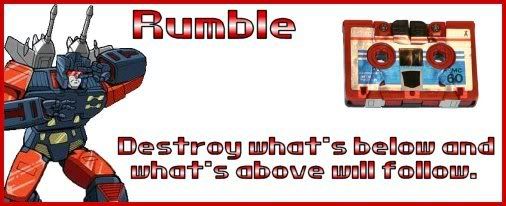 R.I.P, Menasor.
I can't believe I thought Cassettes were the way of the future.
Is +1 on Kups list.
'Cons Have More Fun