*Returning to Trypticon after receiving the recall order during their energy gatering mission, the casseticons find the city quiet. Rumble looks around and scratches his head.*
"
Wheres everyone got to?
" he says as he makes his way inside the Decepticon city. Rounding a corner he finds Stalker and the rest of the forces gathered around a makeshift table playing cards.
"
Rumble, you took your time.
" Stakler says calmly "
Deszaras told me to send you back to Cybertron as soon as you reared ugly that face of yours.
" Stalker narrows his eyes. "
Hurry up and get to the space bridge, I want to finish my game.
"
*Rumble decides that he has taken enough time as it is to return home, so ignores Stalkers remark. Making it to the space bridge, Rumble and the rest of the cassettes are transported back to Cybertron.*
_________________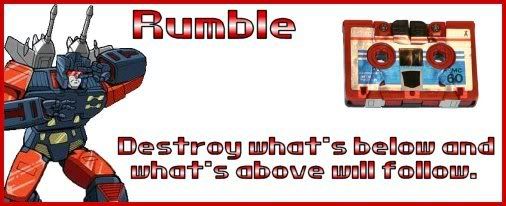 R.I.P, Menasor.
I can't believe I thought Cassettes were the way of the future.
Is +1 on Kups list.
'Cons Have More Fun