*Still dazed from the previous strike, Rumble turns just in time to be hit squarely in the face by the second slab. The impact sends him toppling over backwards.*
"
That's it Galvatron, my turn.
" Rumble mutters to himself.
*Getting up Rumble begins to send low frequency shockwaves through his body towards the wreckage behind Galvatron, just strong enough to make some parts loose and begin raining down on the Decepticon second in command.*
"
Hehehehehe!
"
_________________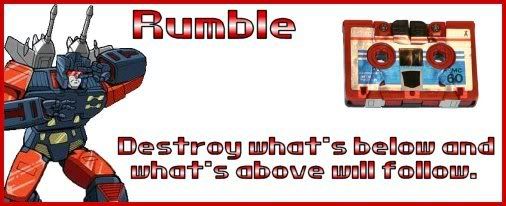 R.I.P, Menasor.
I can't believe I thought Cassettes were the way of the future.
Is +1 on Kups list.
'Cons Have More Fun