*Rumble dials the number for TFTS (TransFormerTaxiServices). There is a slight delay as the phone connects, then it begins to ring. Soon after, a bot answers the call.*
"
Transformer Taxis, how can I help.
"
"
Err Hi, listen, me and my friend here need a taxi pretty quick, we are outside the Energon bar.
"
"
Ok, will be with you shortly, can I take a name please?
"
"
Errr.... It's Mike.... Mike rotch...
"
"
Ok Mr Rotch, please stand by.
"
*there is a click as the phone hangs up. Rumble turns back to face Dirge who attacks him with the steam iron, putting a slightly wonkey Autobot patch over his decepticon badge.*
"
Ow hey careful!
"
_________________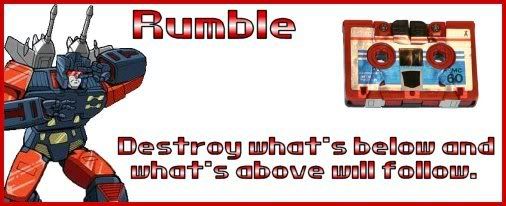 R.I.P, Menasor.
I can't believe I thought Cassettes were the way of the future.
Is +1 on Kups list.
'Cons Have More Fun