*Rumble looks up from the mess that the Decepticon warriors have left, to see Megatron, Galvatron and Nightshade standing there. He listens to Galvatron's proposal for 'Mighty Warriors' and an idea enters his mind. Stepping over to Dirge, Rumble delivers a small electric shock into the seeker, causing him to jump forwards.*
"
Ahh Dirge, I knew you would be willing to go!
"
*Dirge looks shocked and glares at Rumble*
"
RUMBLE..... wants to go too, don't you Rumble?
"
"
Gackt!
"
*Dirge grabs the cassette by the neck and pulls him forward, forcing him to nod to the Decepticon leaders.*
_________________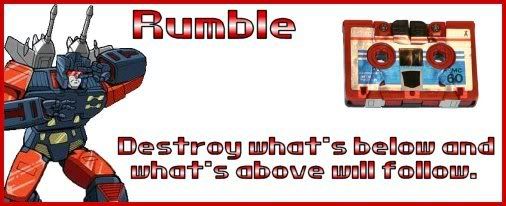 R.I.P, Menasor.
I can't believe I thought Cassettes were the way of the future.
Is +1 on Kups list.
'Cons Have More Fun