Scrapper wrote:
Just in that moment Rumble accidentally hits the aspirator when he put up and down his seat,and the machine begins to emit unquiet sounds.."
*The noises from the machine grow louder as Rumble looks at it. Sensing danger he hops off of his seat and retreats around to the other side of the table, clambering onto a new chair. The other 'cons present look at him suspiciously.*
"
What.... the.. er.. sun was in my optics... heh... heh...
"
_________________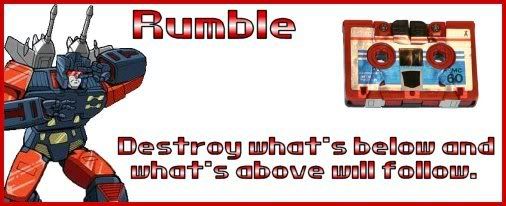 R.I.P, Menasor.
I can't believe I thought Cassettes were the way of the future.
Is +1 on Kups list.
'Cons Have More Fun