*Shockwave takes a closer look.*
"
Ah Dirge, Rumble, I should have known it would be you two. Why have you come to my workshop, you both know I need peace inorder to further the glorious cause of the Decepticons.
"
*Rumble wispers in Dirge's ear. Dirge nods.*
"
Yeah we know, it's just that we have found Megatron's Credit Card and thought maybe you want to return it to him, seeing as you love him so much.
"
*Shockwave's eye flashes and he dissapears from the window. Moments later the door to the workshop opens and Shockwave beckons them inside.*
"
Give me the card, I must return it straight away incase he has no cash on him. I won't be gone long, just make sure you two don't touch anything.
"
*With that Shockwave leaves his workshop in the hands of Dirge and Rumble.*
_________________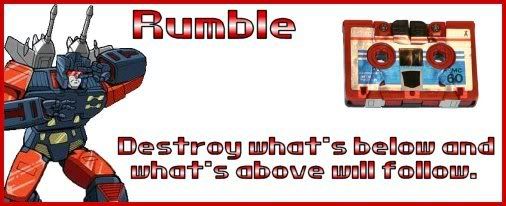 R.I.P, Menasor.
I can't believe I thought Cassettes were the way of the future.
Is +1 on Kups list.
'Cons Have More Fun