*Rumble bats Tumble's hand from his shoulder, giving him the 'evil-eye'.*
"
Nothing personal, but next time you try a stunt like that you ain't gonna get off so easy.
"
*Rumble walks back to Dirge's side, catching Scourge's optic and nodding to him.*
Dirge1 wrote:
"
uh oh theyre both down squirt does this mean its a draw
"
"
Hope not, this was becoming one of the most electrifying events in sports entertainment I've seen.
"
_________________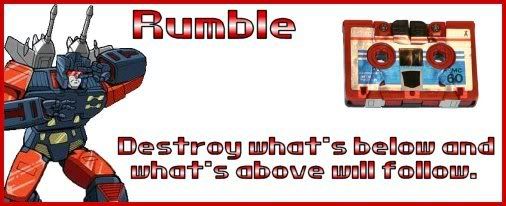 R.I.P, Menasor.
I can't believe I thought Cassettes were the way of the future.
Is +1 on Kups list.
'Cons Have More Fun