Catalyst Prime wrote:
Name's Sucker Punch, who are you?
*Rumble looks up and down at Sucker Punch*
"
Heh how could you not know 2 of the most famous Decepticons around here? Been living under a piece of armor plating or something? Name's Rumble, and this conehead here is Dirge. Now, if were done asking questions there's a fight going on here.
"
*Rumble turns his attention back to the fight, handing Dirge a bag of popcorn he just happens to have in a compartment. No sooner has Dirge started eating that Megatron delivers the show stopping Tombstone.*
"
Ohhh thats gotta hurt! Hahahaha!
"
_________________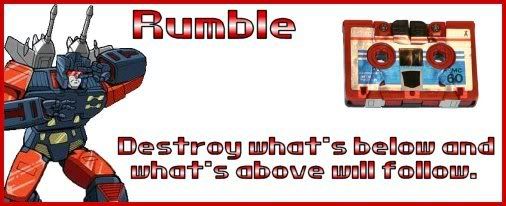 R.I.P, Menasor.
I can't believe I thought Cassettes were the way of the future.
Is +1 on Kups list.
'Cons Have More Fun