Ok, here's a very selected slice of my Lego stuff, based on what has been talked about.
First, Blacktron I. Never had any as a kid, so I got some parts on Bricklink and used some parts I had...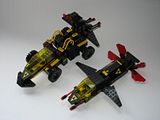 Blacktron II I did have as a kid, even though I never had any Space Police II... (SP I looked better anyhoo) I added a couple last year, so I could finally make that "super vehicle" that you got mail-away instrucs for.
Also, Here's a handy four-wheel steering, self-loading ore truck I built with leftover BT2-colored pieces. Fun!
Lastly, that Lego Panther... Designed by Daniel Siskind of brickmania.com. Plenty more pics in the corresponding photobucket album.
Here's what happens when it took a dive from my dresser up at school...
And lastly for today, Here's the prototype of the Jagdpanther (hunting panther, a purpose-built tank killer) conversion I designed to fit Siskind's hull. I have the thing in grey, but apparently no pics of it. Maybe I'll take some after the holiday busy-ness.
The proud crew!
Those interested can go
here
for more.