OK... It's loosely based on the concept used by Mayfair on their DC Heroes game. If you're actually familiar with it, it's a big time
simplification - no Column Shifts, Last Ditch Defense, or Hero Points. If you're NOT, the basic idea is this:
Every (non-automatic) action has an Acting and Opposing value, used to determine the Die Roll, as well as an Effect Value and
a Resistance value use to determine the effect (or DAMAGE in the case of combat.)
So, what I'm coming up with for combat is this:
Your "to hit" number = 11 + Opponent's
SKILL
- Your
SKILL
-or- If they're in ALT-mode, as appropriate, they could also use:
Your "to hit" number = 11 + Opponent's
SPEED
- Your
SKILL
You'd roll a 2d10, rolling again (and adding together) for Doubles, and record the number you exceeded the roll by. (This is bonus damage!)
DAMAGE is either:
2 x your
FIREPOWER
- their
ENDURANCE
+
BONUS
(from the roll) for Guns, Missile, etc...
2 x your
STRENGTH
- their
ENDURANCE
+
BONUS
for Punches, Kicks, etc...
Your
FIREPOWER
+
STRENGTH
- their
ENDURANCE
+
BONUS
for Swords, Claws, etc...
That's the BASIC idea anyway. And that's how it would work for opponents of roughly the SAME SIZE.
Now it gets complicated:
SIZE FACTOR
(0-10):
0 : Heads/Guns/Micro's
1 : Mini-cars, Cassettes
2 : Stunticons, Combaticons, Protectabots, Aerialbots (-except leaders), Constructions
3 : Autobot Cars, Seeker Jets, Predacons
4 : Leaders, Dinobots
5 : Gestalts (Combined forms)
6 : Bases (Omega Supreme, Trypticon, Metroplex)
7 : Fort-Max
8: ?
9 : ?
10: Unicron
Just a rough guideline. It plays into a couple of other things...
HIT POINTS
(how much damage one can take before shutting down)
=
ENDURANCE
squared
+ [
SIZE
x
ENDURANCE
]
Also - your "to hit" number is LOWERED when your attacking a LARGER target (easier to hit): Subtract the
SIZE
difference
from your required "to hit" roll. (No such bonus or penalty applies when attacking a SMALLER opponent.)
BUT - you'll do less damage: Subtract DOUBLE that amount from the damage inflicted. And the BIGGER guy? Gets to ADD
DOUBLE the difference to HIS damage!
So: if Bumblee punches Unicron, he'd get a +9 bonus to hit, but incur a -18 penalty to damage.
Thus, with
STRENGTH
of 3, vs. Unciron's Endurance of (10?)? He would need to exceed the to hit by 22 just to dent him. Now, I have know idea where
to put Unicron's
SKILL
, but if it was a 10? Bee would need a 12, based on Skill, minus 9 for the size, so, "3" to make
contact, but a 25 to actually do ANY damage at all! (And the only way to GET a 25 on a 2d10 is to roll doubles.)
Finally
INITIATIVE
: Each Character's initiative is their
INTELLIGENCE
+
SPEED
+
COURAGE
+ d10 (each
round)
Actions are then resolved
in the order of initiative, from highest to lowest. (GM's option: in the Mayfair game, actions had to be DECLARED in
reverse
order, giving those with the higher initiatives a much better chance to act in a way that directly counteracts their opponents.)
Well, that's the basic structure, for Combat anyway. I drew up some characters (G1 exclusively) based on what I could read
from the Tech Spec cards. I'm not sure how all the various bonus skills and powers would work yet, but I figure to throw them
in and figure out the details later. here are the Autobots I've done: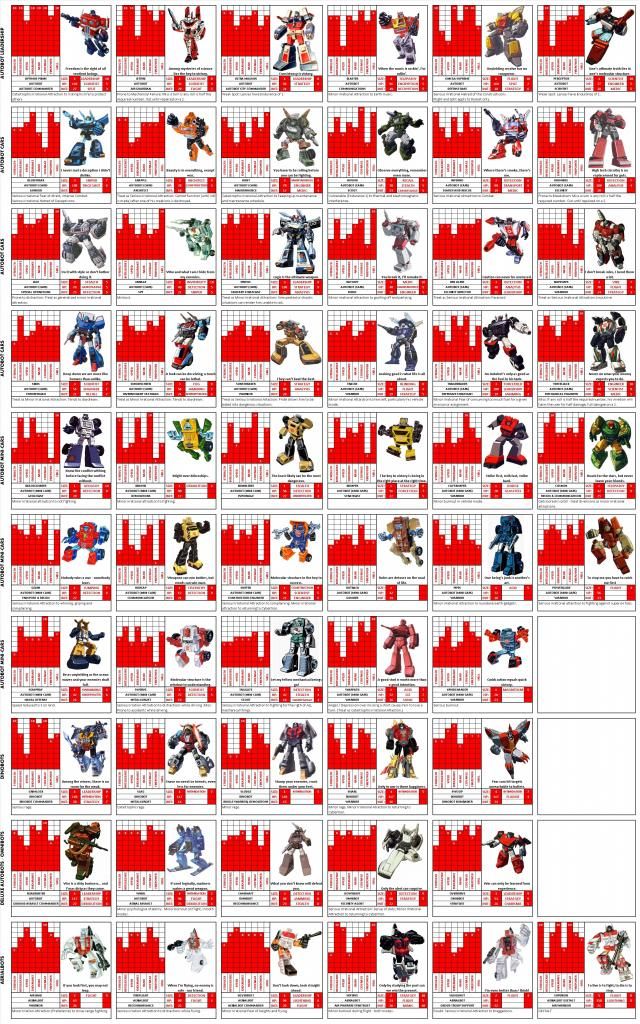 The big thing I'm missing, aside from fleshing out how the Bonus Skills and Powers would work, is adding some kind of
FUEL GAUGE that would need to be taken into account, or a least make them ineffective when it dropped to -0-.