Alright people. I just randomly decided to take pictures of me and my room. Yep yep. Enjoy.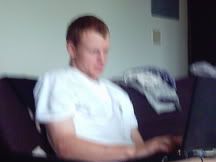 Here's me typing on the computer. The camera man was falling when he took it... thus the motion like look. I like the picture though.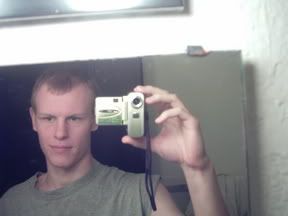 Here I tried using the mirror. I don't like that technique. It sucks.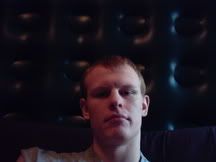 Now this one, I'm sitting on my futon and the air mattress is behind me. I used my long monkey arms to take this one. I like it better than the mirror technique. GO MONKEY ARMS!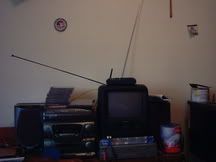 Here's my nice little setup. I have my stereo, tv/vcr combo, dvd player, and dsl box all in the picture. Underneath the table is the dreamcast and N64. Oh and the Xerox workcenter [printer, fax, scanner, all in one]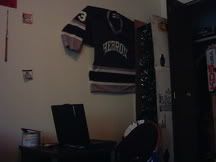 Yep. This is my trusty laptop. It works special. On the wall is the away jersey of my former hockey team. Hebron Academy. Then the small things on the wall are my coaching patches. Fun stuff. You can also see the fake christmas tree in a box in the corner there. Yep.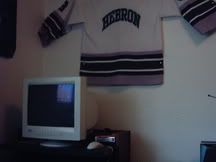 Here's the other computer in my room. Matt uses that one. I do occasionally also, but meh. Behind it is my home jersey for Hebron Academy. I stole them. I shouldn't have. Oh well.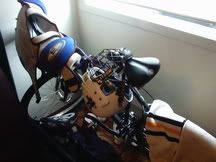 This is in the far side of my room. It is my bike covered with my hockey equipment. It is next to the window... so I can air it out. It get's pretty stinky at times. So that is why I have tons of Frebreez availble in my room. Yep yep.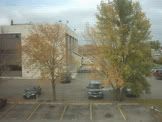 Ah! The lovely view from my room. Special isn't it?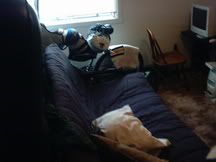 And here is my bed/futon. I took the picture from the door so you can kinda see how things look in the room. But yeah. Wonderful isn't it?
Well that's me and my room. My lovely room.
_________________
There is nothing more dreadful than imagination without taste. ~Wolfgang von Goethe