TERRORSAUR
Primary Function:
AERIAL COMBAT
Motto:
"Claim power as if it is already yours."
Alternate mode:
PTERANODON
BIO
Power hungry, deceptive and cruel, Terrorsaur embodies many of the core Predacon principles. He did not join Megatron's rouge band to avenge the lost honour of the Decepticons or to bring the Predacon race back into power, his sole interest was the acquisition of personal power. To this end there is no enemy he will not attack and no comrade he will not betray. Terrorsaur's ambition was almost fulfilled once when he overcharged on Energon and defeated Megatron in one-on-one combat. His leadership was short lived, however, and during the Quantum Surge, he fell into a lava pit and disappeared.
WEAPONS/ABILITIES
Terrorsaur is extremely fast and highly skilled in aerial manoeuvres, specialising in extended strafing runs (often exhausting his entire arsenal in one go). He prefers to tag-team with Waspinator for his aerial onslaughts, but always considers him utterly expendable. Terrorsaur is also a highly skilled computer technician, with an encyclopaedic knowledge of codes and programs from across the galaxy. His primary armament is a hand-held Ion blaster that is also capable of firing missiles. He also has two highly destructive cannons hidden in his shoulders.
TRANSMETAL FORM (Pteranodon/Arieal Attack Jet)
When Terrorsaur disappeared into a lava pit, the other Predacons assumed he had been destroyed. In reality, he had been thrown into Stasis Lock deep underneath the Predacon base. When he awoke he found his body had mutated into a Transmetal form. Faster and more powerful than before, he gained a third mode, an aerial vehicle. Emitters integrated into his wings fire repulsor beams that know targets off balance with pulses of highly focused, concussive force. His vehicular form can reach speeds up to Mach 1.8. In robot mode, he is armed with two large blades that heat up to 2,000 degrees Celsius. Combined with his sharp claws and bladed shoulders he is very effective in close-quarters-combat.
WEAKNESSES
Terrorsaur's soaring ambition generally outweighs his abilities, leading to one crash-landing after another.
_________________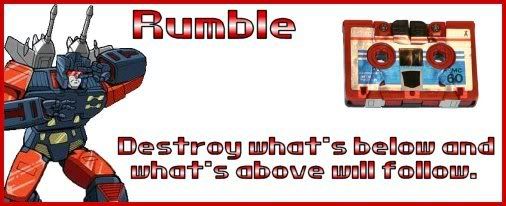 R.I.P, Menasor.
I can't believe I thought Cassettes were the way of the future.
Is +1 on Kups list.
'Cons Have More Fun