Transformerland Transformers Store F.A.Q.
Frequently Asked Questions about our Store
This FAQ defines some terms you may not understand in the store using Hound as an example. If this FAQ does not answer your question, please contact us.
What payments do you accept
We accept a variety of payment types, and we prefer payment in US funds. At checkout, you will see the following payment options:

Credit Card
Paypal
Check/Money Order
Other (Cash, Trade, Western Union, Moneygram, etc.)
How much does it cost to ship?
Please see our shipping costs page for questions regarding shipping costs. We typically ship using USPS, and based on package size and weight, shipping costs are actually calculated automatically at checkout
Customs Fees / Import Duty for International (non-US) customers
You are responsible for any duties, customs fees or other taxes as determined by your country. They are not a part of shipping charges! These fees are assessed by your country based on the DECLARED value, whether or not the package is marked as a GIFT. If you want the order INSURED, the DECLARED value can not be lower than the INSURED value. In other words, the risk of insuring the package is also getting a customs fee :(
What is your return policy?
We do our best to describe our items in detail, but since we have such a large volume of items we do make mistakes, so please ask many questions! We do not want our customers to be unsatisfied, so we do offer a 100% purchase price guarantee, but will not refund any shipping costs (to or from our location). Also, we will not refund payment until we receive the order back and inspect the items. Time limit on returns is 30 days after shipment delivery date (for trackable shipments) or 45 days after item was shipped (for untrackable shipments).
What Condition Is It In?
The 'C' scale technically ranges from C1 (poor) to C10 (mint), but you will rarely find anything under a C7 on this site. There are so many different ways to arrive at a condition grade, so rather than list them all, I'll just give the scheme I use. I start out with C10 and answer the following questions:

Is anything broken or repaired? - subtract anywhere from at least 2 to at most 7 grades depending on extent of damage
Is there any sticker wear? - subtract 1 grade for heavy wear, 1/2 grade for light wear
Is there any chrome or paint wear? - subtract 1 grade for heavy wear, 1/2 grade for light wear
Are the joints loose? - subtract 1 grade for very loose, 1/2 grade for slightly loose

The condition grades for all items in the store were calculated using this scheme. The particular flaws (sticker wear, paint wear, joint wear) will be detailed in the item's 'description' column. Half-grades are designated with dashed instead of decimals (e.g. C7-8 instead of C7.5). Notice that the term 'MINT' is used instead of C10, and 'NEAR MINT' is used instead of C9-C10.
What Does It Come With?
MISB or Boxed (with bubble or styrofoam insert)
Unless otherwise stated, a MISB (Mint in Sealed Box) or Boxed (with bubble insert) figure will come with all accessories, instructions, catalong, and tech specs decoder. If you see a boxed figure 'w/o bubble or styrofoam insert', it means it comes without the inner packaging to hold the figure in place inside its box. Unless otherwise stated, all figures come with stickers already applied. If stickers are still on the label sheet, you will see 'includes unapplied sticker sheet'. If stickers are not applied and unapplied sticker sheet is not included, you will see 'factory stickers only'. This means the only stickers present on the figure were applied at the factory.

Complete
A 'complete' toy will typically come with the figure plus all accessories listed on the 'set includes' page of the toy's instruction book. Unless stated otherwise, a 'complete' figure does not come with any paperwork (instructions or tech specs--see below). Notice here the missiles are shown still on the 'sprue' (or 'tree' or 'runners'). Unless stated otherwise, the 'sprues' are not included.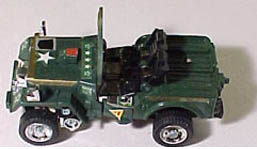 A 'figure only' includes only the figure. No accessories listed on the 'set includes' page of the instruction book (see below) are included.

Instructions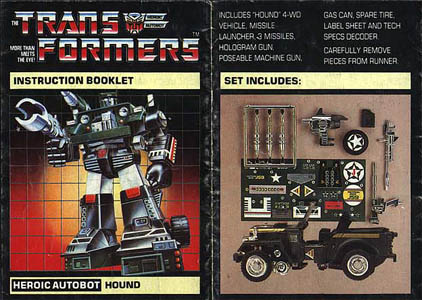 Instructions refer to the picture above. The instructions detail transformation and sticker application steps. Also, the instruction book usually includes a 'set includes' page which lists and pictures all accessories packed with the particular figure (see above picture).

Accessories

A listing in the store such as 'gun' or 'missile' or 'launcher' refers simply to that particular accessory (see the 'set includes' page on the instruction image above). No other accessories, paperwork, or figure are included with such an item.

Tech Specs

Tech Specs refer to the picture above. It is basically a card that details the particular figure's statistics, and includes a brief description of the particular figure's job function and personality.

Box Only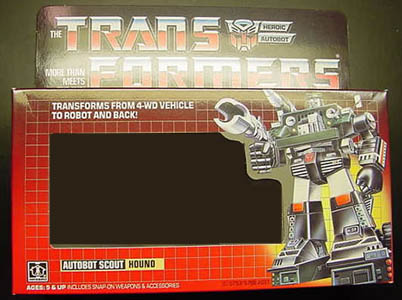 A 'box only' will include only the packaging and no accessories, paperwork, or figure unless stated otherwise. Unless otherwise stated, a 'box only' item will not contain the 'bubble' or 'styrofoam insert' shown in the picture below (figure shown for effect only).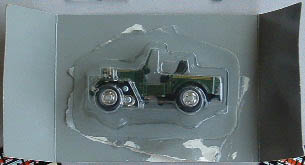 An 'unapplied sticker sheet' will include the full sheet of decals that originally came with the figure. Unless stated otherwise, the label sheet will contain all decals.