Transformerland Transformers Store FAQ
Orders, Payments, and Shipping
What payment types do you accept?
We accept a variety of payment types, and we prefer payment in US funds. At checkout, you will see the following payment options:
PayPal (preferred)
Credit or Debit Card - processed through PayPal's website, with no PayPal account required (preferred)
Trade-in credit for your toys
Check/Money Order
Other (Cash, Western Union, Moneygram, Venmo, etc.)
If you are using a non-instantaneous payment method (i.e. not PayPal or card), please contact us to arrange payment so we know what to expect.
How much does it cost to ship?
Please see our shipping costs page for questions regarding shipping costs. We typically ship using USPS, and shipping costs are calculated automatically based on package size and weight during checkout.
Customs Fees / Import Duty for International (non-US) Customers
You are responsible for paying any duties, customs fees, VAT, or other taxes as determined by your country. They are not a part of shipping charges that are paid to us, and are paid by you to your country's customs agency. We cannot calculate or collect your possible tax burden. These fees are assessed by your country based on the DECLARED value, whether or not the package is marked as a GIFT. If you want the parcel INSURED, the DECLARED value cannot be lower than the INSURED value. We cannot refund shipping costs on a parcel that is returned to us because you refused to pay your assessed customs tax charges.
Your country's customs tax rules may have changed recently. Please visit your country's customs agency website or contact them to find out how much to expect to pay.
What is your return policy?
We do our best to describe every item in detail, but we handle an enormous volume of items and occasionally make a mistake, so please ask any questions you have after reading an item description and looking at the photos. We want our customers to be completely satisfied, so we do offer a 100% purchase price guarantee. If you are dissatisfied with your item due to an error or oversight in our listing (damage or wear not mentioned or visible in the photos), contact us to arrange a return for a refund or replacement item (if available).
If you change your mind about an item, or refuse delivery due to customs taxes or another reason, we can accept a return but cannot refund any shipping costs (to or from our location). We will issue your refund after we receive the order back and inspect the items. We must receive them in the same condition they were sent out. We cannot refund or replace items damaged during your handling or use. Time limit on returns is 30 days after shipment delivery date (for trackable shipments) or 45 days after item was shipped (for untrackable shipments).
Listings, Descriptions, and Items
What Does It Come With?
This FAQ defines some store listing terms you may not understand using a G1 Transformers Hound as an example. If this FAQ does not answer your question, please contact us!
Sealed, MISB, Packaged, or Boxed (with bubble or styrofoam insert)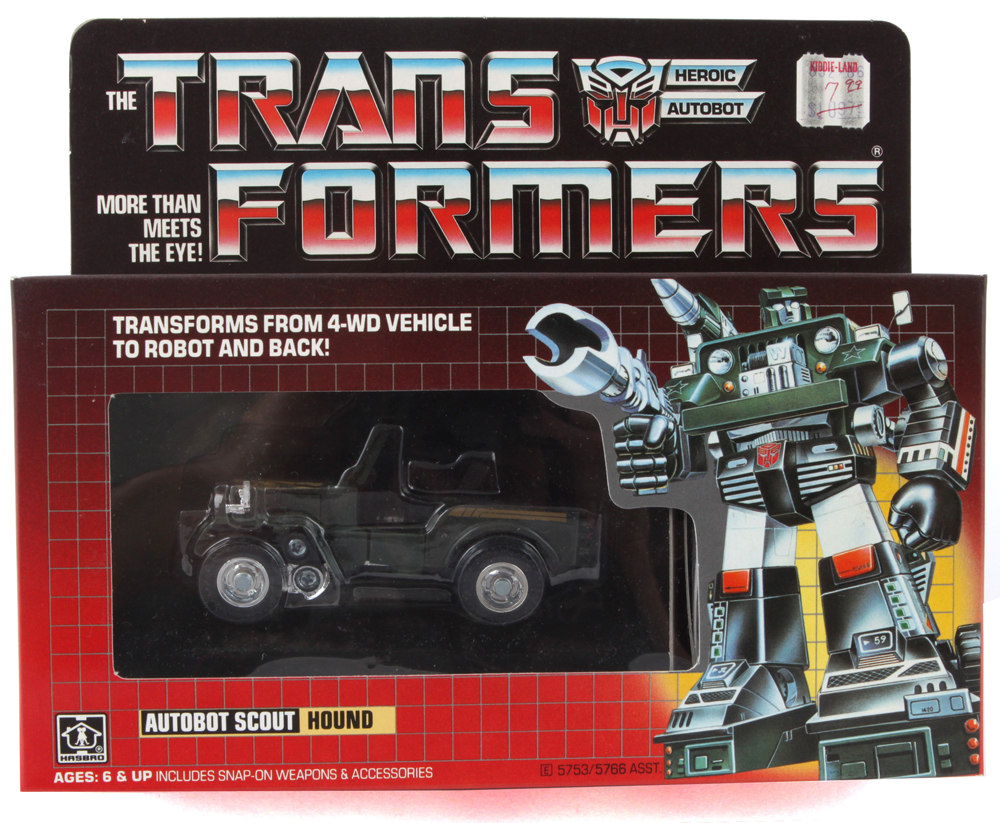 A sealed or MISB (Mint in Sealed Box) will come in its original packaging with all pieces and paperwork (see paperwork definitions, below) originally included by the manufacturer. This also means that the original tape on the toy package has not been cut, or the plastic blister has not been peeled or cut from its backing card. If you see a boxed or packaged figure, it means the package has been previously opened but all of the package contents are still present unless otherwise stated. Paperwork may or may not be included, see the listing's paperwork section. Unless otherwise stated, all figures come with their stickers or decals already applied. If stickers are still on the original label sheet, we will state "UNUSED sticker sheet" in the paperwork section of the description. If stickers are not applied and unapplied sticker sheet is not included, you will see 'missing' in the toy's sticker condition. This means the only stickers present on the figure were applied at the factory.
Complete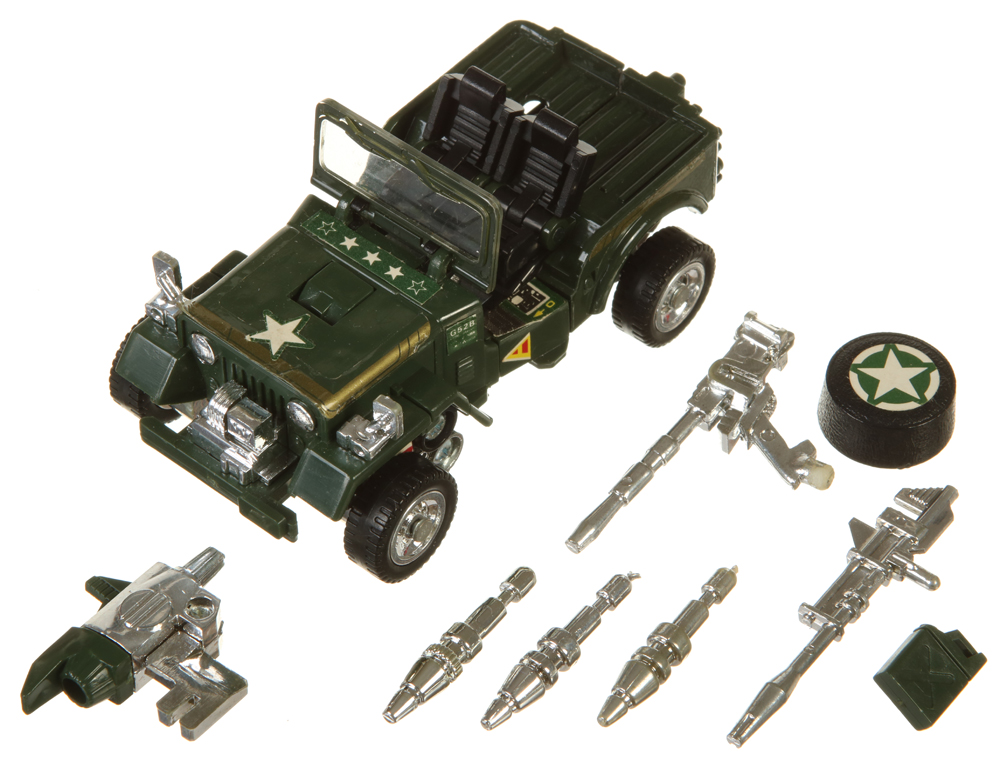 A complete toy will come with the figure plus all accessories (weapons, interchangeable parts, etc.) originally included with the toy. Unless stated otherwise, a complete figure does not come with any paperwork (instructions or tech specs, see below). Notice here the missiles are no longer on the 'sprue' (or 'runner' but not 'spruce' ;-) ) - the plastic frame that some accessories are left attached to, and from which the user removes the parts before use. Unless stated otherwise, the sprues are not included.

Figure Only
A 'figure only' includes only the figure. No accessories (removable weapons, interchangeable parts that are removed during normal play) are included.
Instructions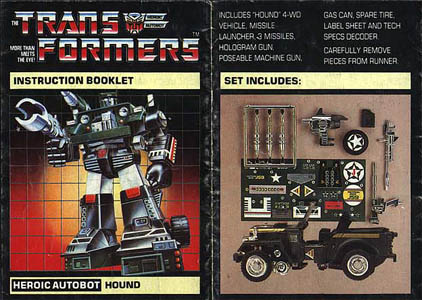 Instructions refer to the picture above. The instructions detail transformation and sticker application steps. Also, some instruction sheets include a 'set includes' page, which lists all accessories packed with the particular figure (the right panel of the above sheet).
Accessories

A listing in the store such as 'gun' or 'missile' or 'launcher' refers simply to that particular accessory (see the 'set includes' page on the instruction image above). No other accessories, paperwork, or figure are included with such an item.
Tech Specs or Stats Card
Tech Specs, stats card, or filecard refer to the picture above. It is basically a card that details the particular figure's statistics, and includes a brief description of the particular character's job function and personality.
Box Only or Card Back Only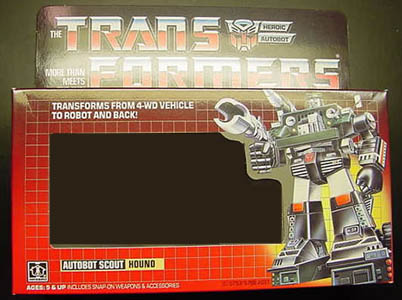 A 'box only' will include only the empty packaging and no figure, accessories, or paperwork. Unless otherwise stated, a box only item will not contain the bubble, blister, or cardboard or styrofoam insert like the one shown in the picture below (figure shown for effect only).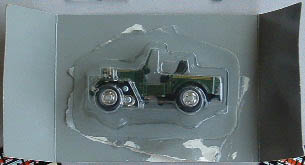 Unapplied / Unused Sticker Sheet

An 'unapplied sticker sheet' will include the full sheet of decals that originally came with the figure. Unless stated otherwise, the label sheet will contain all stickers or decals.
What Condition Is It In?
The 'C' scale technically ranges from C1 (junk) to C9-near mint, but you will seldom find anything under a C7 on this site, and most figures fall between C9 (excellent) and C8 (normal wear). A just-opened brand-new figure would start out at C9-near mint, and the grade goes down from the following considerations:
Are there any signs of more than minor wear? Figure is no longer near mint, just regular C9. Most figures have some minor form of factory wear even when brand new.
Is anything broken or repaired? Subtract least 1 full grade point, depending on extent of damage, and how severely it affects the figure's appearance or function.
Is there any sticker wear? Subtract 1 full grade for heavy wear, 1/2 grade for moderate wear. This wear is considered less severe than other forms.
Is there any chrome or paint wear? Subtract 1 grade for heavy wear, 1/2 grade for moderate wear.
Are the joints loose? Subtract 1 grade for very loose, 1/2 grade for slightly loose.
Are the plastics yellowed, discolored, or sun-damaged? Subtract 1 or more grade for moderate or greater discoloration, 1/2 point for light discoloration. This damage is considered more severe than other forms.
Does the figure need cleaning? We do not have time to clean all the figures we sell, so we mention any noticeable dirt or dust. However, we do not subtract grades for this, since dirt or cleaning do not permanently damage the figure's appearance.
The condition grades for all items in the store were calculated using this scheme. The particular flaws (sticker wear, paint wear, joint wear, etc.) will be detailed in the item's description text.