Transformers 2 - Revenge of the Fallen
Friday, February 06, 2009 (pm): Prime's Smackdown Close-up - Yep more screenshots from the trailer, this time showing a blowup of the devastating blow to Optimus Prime. The detail is extraordinary but it is still hard to tell exactly what is hitting him. It possible in the first image there are tank tracks and some hieroglyphics in the second but there is also a ton of rust showing so its hard to tell for sure. Mostly simply posting the pictures because they are so fantastic looking. Thanks to Lynx for the pictures. -Knightshade
Friday, February 06, 2009 (am): Autobots At Chicago Auto Show - Autoblog is reporting that they plan on bringing their fleet of Autobot cars to the Chicago Auto Show on February 11th. GM will hold a press conference scheduled to start at 10:15am CST at the Chevrolet exhibit at McCormick Place. The vehicles that may be there include the Chevy Camaro(Bumblebee), Chevy Volt(Jolt), Chevy Spark (Skids), Chevy Trax (Mudflap for now), and Corvette Centennial concept (Sideswipe).
Official Transformers Video Game Trailer - Activision has officially released the video game trailer for Transformers Revenge of the Fallen. The game will be available on current consoles and PCs. The game will be similar to the first movies, in that you can play as Autobots or Decepticons and each Transformer will have abilities and weapons specific to them along with the instant Transformation switch. There will also be multiplayer modes to you can wreck havoc on each other. There is no release date yet, but I imagine it will come out about the same time as the movie.
It is good to hear Peter Cullen doing Optimus Prime. The graphics are solid but not sure if what was shown is in game graphics are not. Now most significantly is the end of the trailer where they explicitly merge the Decepticon logo into the face on movie poster indicating a clear link. In addition below are a few pictures from IGN that show off the character models and also Bumblebee fighting off a Decepticon. One thing I noticed about the Decepticon is that its alt mode may look very close to the M270 Launch Rocket System which I think was one of the photos in -=boM=-'s gallery. A gallery that Paramount has since had pulled from the web (update below).-Knightshade
---
Note: Below this point, all information pertains to the 2007 Transformers movie
New Live-Action Transformers Movie, Steven Spielberg and Dreamworks with Michael Bay
Monday, December 18, 2006: An exclusive movie trailer has popped up on Yahoo. Things seem to really be taking off now, and over the past 12 months we have seen many of the rumors come to fruition, this is just one more example. The Transformers are coming to life, beautiful!
Saturday, July 01, 2006: It seems the rumor posted on Wednesday was 100% correct. Check out the teaser now!
Also, an image rumored to be a the Bumblebee set prop has been floating around, see the original source along with some readers' responses here. I've decided to reproduce it here with a significant amount of distortion added so as not to give too much away!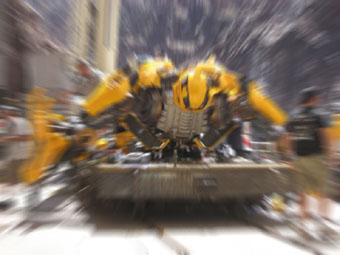 Is this Bumblebee?
Wednesday, June 28, 2006: (Possible trailer spoiler warning). Not sure if this has been verified, but seems legit. Our Savanna recounts the deleted thread at our forums. I'm keeping it at rumor status, but it's really a moot point since there's less than a week till the trialer hits theaters anyways!
Sunday, June 18, 2006: (Possible spoiler warning) A recent account from the Transformers movie set has it that a 'battle' between an AC-130H Gunship and its crew (the 16th Special Operations Squadron) was filmed late last month. The commander of the aircraft, Aircraft commander Capt. Shawn Sharitt, told reporter, Mladen Rudman, the gunship and other aircraft were sent in to save a village from 'a spider-like creature'. Speculation already has it that this 'creature' is Scorponok. Read the full account here.
Monday, June 5, 2006: Set images are beginning to trickle out over the net. Several of the airmen at (though not necessarily stationed at) Holloman Air Force Base will be extras in the film. The images below were taken from here. See also here for more set images and details.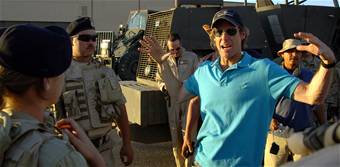 Director Michael Bay on the set of Transformers
Saturday, June 3, 2006: A teaser trailer is scheduled to hit theaters on July 4, 2006. This is exactly one year prior to the film release date. A possibly movie poster has shown up (see left), with a possible slogan for the movie "Their war. Our world." Pretty ominous!
Monday, April 24, 2006: Well there has not been much to report on the movie front lately...until now! It seems the movie is now in position to begin filming. Director Michael Bay and Dreamworks Studio runner Steven Spielberg have been spotted running around the small town of Alamogordo, New Mexico (NM).
According to a WSMR news release on the Las Cruces Sun-News Web site, "Transformers" will be filming on location on and around White Sands Missile Range and Holloman Air Force Base in late May. This site is a notoriously risky location for filming as the range can't guarantee uninterrupted filming windows as testing of real missiles may transpire. Nevertheless, DreamWorks is going forward, "making a date to film at the missile range's dune field just north of Range Road 10 and a little west of Holloman". A fake Middle Eastern village is being built by the preproduction crews, according to the release.
In addition, IGN Filmforce has learned the following actors are in talks for these roles:


| | |
| --- | --- |
| Actor | Role |
| Shia LaBeof | Sam (a.k.a. Spike) |
| Jon Voight | Keller, the U.S. Secretary of State |
| Michael Clarke Duncan | Louisiana-born Army Chief Warrant officer Figueroa and a close team member of young military commander Lennox |
| Josh Duhamel | Military Commander Lennox |
| Bernie Mac | used car salesman Bobby Bolivia |
| Rachael Taylor | super-hot and super-smart codebreaker Rachel |
| Megan Fox | LaBeof's love interest Mikaela |
| Tyrese Gibson | Offer sent |
| John Turturro | Offer sent |
| Travis Van Winkle | Offer sent |
| John Robinson | Offer sent |
Friday, July 15, 2005: Not much new Movie news from the Hasbro panel at SDCC, only that there will be a toy line based on the new movie (big surprise...). They did show a film short with some pre-production concepts an illustrations as well as some words from Steven Spielberg. Oh, and movie Soundwave will be a helicopter (at least that's the plan as of today, but we all know how these things change!)
Wednesday, July 13, 2005: Hasbro's site has just issued a firm-sounding release date of the new Transformers Movie. They write:
TRANSFORMERS WILL BE MORE THAN MEETS THE EYE AT THEATRES NATIONWIDE ON 07-04-07

The live-action ìTransformersî movie has been set to open nationwide on 07-04-07, it was jointly announced today by DreamWorks Pictures, Hasbro, Inc. (NYSE: HAS), and Paramount Pictures.

The feature, based on the globally popular Transformers franchise, will be directed by Michael Bay (upcoming ìThe Island,î ìArmageddonî) from a screenplay being written by Alex Kurtzman and Roberto Orci (upcoming ìThe Islandî). Steven Spielberg (ìWar of the Worldsî) is executive producing the film, with Lorenzo di Bonaventura (upcoming ìFour Brothersî), Tom DeSanto (ìX-Menî and ìX2: X-Men Unitedî) and Don Murphy (ìThe League of Extraordinary Gentlemenî) serving as co-executive producers.

In making the announcement, DreamWorks head of distribution Jim Tharp stated, ìUnder the direction of Michael Bay, and with Steven Spielberg executive producing, we know that ëTransformersí is going to be the kind of explosive action movie that is perfect for the height of the summer movie season. By staking our claim on the 4th of July, 2007, we ensure that we not only have the time to make this movie the way it should be made, but also to build excitement and awareness leading up to its release.î

ìFans around the world have wanted a Transformers live-action movie for a long time and we are thrilled to work with DreamWorks and Paramount to bring this legendary saga to life on the big screen,î said Brian Goldner, President of Hasbroís U.S. Toy segment. ìWith some of the entertainment industryís best talent on board for this film, fans will experience Transformers in a way that is incredibly powerful.î

DreamWorks will distribute the film domestically, while Paramount will handle the international release. Hasbro will work with the production team and DreamWorks on all aspects of the filmís creative development, marketing and promotions, and will manage merchandising in conjunction with the release of the film.This week, DreamWorks is launching the official ìTransformersî movie website (www.transformers.com) at Comic-Con International, being held from July 13 ñ 17 in San Diego, California. ìTransformersî will also be making its presence known in a big way, with a huge 18-wheeler truck sporting the instantly recognizable Transformers logo dominating the area around the DreamWorks boothóand much of the convention flooróletting thousands of fans know that ìTransformersî is coming to the big screen on 07-04-07.
Monday, July 11, 2005: A slight speedbump reported by Producer Don Murphy last evening. He writes,
"The writers have been lured off to work on Mission Impossible 3Öwhich will delay us indeedÖ.no script in sightÖ"
Earlier today, he carified by stating,
"What is happening on Transformers is what happens on films ALL THE TIME. Steven Spielberg, Dreamworks, Hasbro and I are committed to making a GREAT TF film. We'd rather not make an okay one. And so it is taking longer than we hoped to get off the launch pad. We still will launch. It will be GREAT and then we will make sequel after sequel."
I for one hope Mr. Murphy sticks to his guns. I would far rather see the new Transformers Movie done right rather than rapid!
Friday, June 24, 2005: The movie is rumored to have gone into pre-production according to our friend (evildeadbatman). Also, a couple of images from a movie press-release gathering have surfaced thanks to Joe Black.
Monday, April 4, 2005: News of the new Transformers Movie has gone mainstream--stories can be found in such media outlets as CNN and AOL. A few updates worth noting here:
Michael Bay in talks to direct the DreamWorks/Paramount film. Bay's past works include the two "Bad Boys" movies, "Pearl Harbor," "Armageddon", "The Rock", and upcoming film "The Island".
Marc Haimes and John Fox are overseeing for DreamWorks.
A Nov. 17, 2006, release date has been set.
Movie Press Release Images
Thursday, November 4, 2004: Not really on topic, but I've gotten a lot of questions about where to buy the original Transformers The Movie. Rather than respond to a bunch of emails, I'll just put up this link (right).

Wednesday, November 3, 2004: "Catwoman" screenwriter, John Rogers, has signed on to write the script to DreamWorks' live-action "Transformers" movie, to be executive produced by Steven Spielberg. DreamWorks tentatively plans on releasing the "Transformers" movie in the summer of 2006. Don Murphy, Tom DeSanto, and Lorenzo Di Bonaventura are producing the film.
SOURCE: Variety

Monday, August 16, 2004: A small bit of insider news today by evildeadbatman. It is true that Dreamworks bought the rights to the script, apparently out of someone's reverence for the original story. Casting for the movie is already set to begin!

Saturday, July 24, 2004: I just heard on the radio that Dreamworks and Steven Spielberg will oversee production of the new live-action Transformers movie. It sounded to good to be true, so I did a little checking around, and lo and behold, it appears to be official! Here are a couple links which prove...this is no dream!
BBC News Story (released 8 hours prior to this update)
Miami Herald Story (released 10 hours prior to this update)
It appears the expected project due date is 2006, ironically one year after the setting of the original TFTM from 1986. The new live-action Transformers movie is sure to boost the popularity of Transformers even further, but will this boost be a blessing or a curse to the already-vibrant TF community?
Monday, September 1, 2003: Producer Tom DeSanto discusses plans for the new TFTM in an interview with Dreamwatch magazine:
"There's no better mythology to bring to the big screen than Transformers. Transformers has got great characters and created an iconic world, and the mythology still resonates with people 20 years after it was launched. Even though they're robots the characters have a lot of personality and a lot of heart and people still care about them. That's a great thing. The the film will combine live-action with CGI. I think it's going to be something the audience has never seen before. In all the years of movie-making, I don't think the image of a truck transforming into a 20-foot tall robot has ever been captured on screen. I also want to make a film that's a homage to 1980s movies and gets back to the sense of wonder that Hollywood has lost over the years. It will have those Spielberg-ian moments where you have the push-in on the wide-eyed kid and you feel like you're 10 years old even if you're 35. That's the energy I want to go for. We want to get to the core of what makes Transformers great. We're going to get back to the heart of what Transformers is and distill that into a movie. The live-action version will be based on Generation One and set on Earth. I am rewatching all the cartoons and reading all the comics."
Friday, June 13, 2003: Hasbro lets it be known to all that it has entered into Agreement with Movie Producers Tom DeSanto and Don Murphy for Full Length, Live-Action Transformers Movie.
PAWTUCKET, R.I.--(BUSINESS WIRE)--June 11, 2003--Hasbro, Inc. (NYSE:HAS) announced today that it entered into an agreement with the highly successful producers Tom DeSanto (X-Men and X2: X-Men United) and Don Murphy (currently producing 20th Century Fox's The League of Extraordinary Gentlemen) for a full length, live-action movie based on Hasbro's enormously popular TRANSFORMERS brand.
"TRANSFORMERS enjoys an amazing fan base worldwide, and we believe that we can create an incredibly fast-paced, exciting movie that will be appealing to anyone who loves action films," said Don Murphy.
"TRANSFORMERS is one of those rare properties that has been embraced by a generation around the world. Like X-Men, TRANSFORMERS offers an amazing mythology with all the elements to create a successful ongoing franchise, iconic characters, global themes, and a world that has never been seen before on screen," said Tom DeSanto.
"The property has been successful in every arena it has played in throughout the world - toys, comic books, television - and we now believe it's time to take TRANSFORMERS to the next level, and into a live-action event movie," continued DeSanto.
"We're thrilled to have entered into an agreement with the very talented and accomplished Don Murphy and Tom DeSanto," said Brian Goldner, President of Hasbro's U.S. toys group. "TRANSFORMERS is a natural for the big screen, and both Tom and Don have the track record and skill to bring to life a TRANSFORMERS movie that will be action-packed and flawlessly executed."
Hasbro's focus on the TRANSFORMERS brand is consistent with the Company's strategy of driving and extending its core brands through innovative toys and games as well as other forms of entertainment. TRANSFORMERS is one of the most popular boys toy brands, with sales up 64% in 2002 vs. 2001. First introduced in the U.S. market in 1984 as a toy line, the success of TRANSFORMERS continues to grow in a wide-range of entertainment categories. The hit television show TRANSFORMERS ARMADA airs on Cartoon Network seven times a week, with more than 12 million viewers. The show also airs in Europe and Australia. TRANSFORMERS ARMADA comic books, published by Dreamwave are also highly successful, with some of the most popular titles in the industry. The comic books are also translated and distributed in many markets around the world. There will be new TRANSFORMERS television programming and comic books launching in 2004.
"The Hasbro Properties Group (HPG) continues to deliver on its mission of extending Hasbro's rich portfolio of brands beyond toys and games and into multiple forms of entertainment," said Jane Ritson-Parsons, HPG President. "Our alignment with Tom DeSanto and Don Murphy demonstrates the power of our TRANSFORMERS brand and our determination to leverage our properties aggressively and creatively."
See the full original press release about the new Transformers The Movie.
Feeling nostalgic? Visit our online Transformers store where you can buy all your old favorites toys such as Optimus Prime, Megatron and Soundwave (not to mention those hard-to-find obscurities)! more info
We buy collections! Still have that pile of old-school TF goodness in the closet? We are interested and will pay cash for your collection! We have a great reputation for our fair pricing offers and fast payments. Ask to see our list of references! more info