History
In 1974, toy company, Takara begins the "Microman" toy line, which is composed of smaller (4") versions of Henshin (Transforming) Cyborg (which debuted in 1972). The marketing strategy behind this was to produce a range of playsets and/or vehicles for the figures at a more reasonable price than it would be for the larger (8" and 12") figures. Scale-matching allowed the figures and sets to be interchangable.
The premise of the Microman story is that the figures themselves were 'actual size', that is, a 1:1 scale model of the characters they represented. These characters were cyborgs beings which inhabited the planet Micro Earth. There was no animated TV show or cartoon from which a story was based, rather the story was briefly described in the toy catalogs that came with each of the figures. Eventually, in 1976, a comic (magna) written and illustrated by Yoshihiro Moritou ran in "TV Magazine".
The line ran from 1974-1980, at which point a slide in the popularity of Microman became apparent to Takara. In 1981, "New Microman" was launched as an attempt to revive the toy line. Interchangeability was sidelined in favor of figures with the ability to transform or merge to form one large robot. In 1983, taking the transformation aspect one step further, Takara introduced Micro Change into the Microman lineup. Everyday objects were now used as the inspiration of the robot's 'alternate mode', and we see some familiar faces including Perceptor, Soundwave, Megatron, and Reflector.
Catalog Scans
Below are some 1983 Takara Micro Change catalog scans. These catalogs presented the range of figures available in that particular wave, as well as the story of Microman:

Front Cover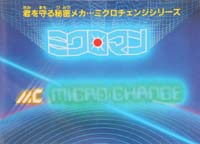 The Microman and Micro Change logos are presented, along with the cheesy line graphics, reminiscent of some of the popular video games of the era.
Pages 1 and 2


Page 1 shows an image of 11 different cyborgs from the Microman line, along with a walkman and headset. Page 2 introduces the story of Mircoman. Further translation coming soon!
Pages 3 and 4


More of the Microman Story, and specifically Micro Change, is described on Pages 3 and 4 (translation coming soon)
Pages 5 and 6



Some familiar cassettes--Frenzy, Ravage, and Condor (Laserbeak)--are shown on Page 5, while fancy-looking motorcycle and helicopter cassettes grace the face of Page 6. These later figure did not become Transformers, though are highly sought-after in the collectors' market.
Pages 7 and 8



Page 7 shows the pre-Transformer version of Browning, an exclusively Japanes Transformer release, that is to say, he was never released in the US. A 44 Magnum gun robot is given on Page 8. This guy I used to own actually. While very hard to come by and kitch in that way, the robot was quite awkward-looking.
Pages 9 and 10



Our beloved Megatron, known here simply as gun-robot Walther-P38, and a slightly repainted and accessory-deficient version are seen on Pages 9 and 10. These guys each came with a chrome sword, which is not shown in the catalog, and did not carry over to the US market (though it did find it's way to the Japanese market...those bastards got all the cool toys.
Pages 11 and 12



Page 11 introduces "Cassette Man", better known as "Soundwave". Page 12 is the familiar camera trio, Microx...I mean...Reflector
Pages 13 and 14



A variety of robot watches are shown on Page 13. These somehow made their way to the US market as Kronoform-just about every kid who collected Transformers in the 80s had one of these guys. Several familiar mini-vehicles are shown on Page 14, including Bumblebee, Cliffjumper, Windcharger, Huffer, Gears, Brawn, and a red version of the ever-elusive Bumblejumper.
Pages 15 and 16


Not sure who these are just yet, more info coming soon, I assume it is just an advertisement for another toy line. Kinda looks like robotech?
Pages 17 and 18


Some more goodies from the Mircoman toy line, a few combiner robots (gestalts) shown on Page 17, and some miscellaneous figures shown on Page 18. More details to come.
Back Cover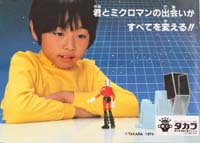 Finally, on the back cover, we have an adorable Japanese boy having an intense conversation with a little red dude. Unlike what we are used to seeing and interpreting, the 1974 is not the year of this catalog, just the year the Microman line started
Micro Change Figure Checklist
(to be added)