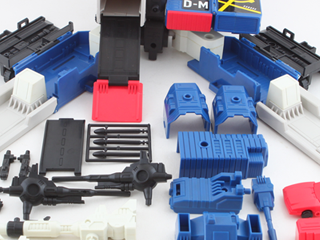 SEE HOW MUCH IT IS WORTH WITH OUR TRANSFORMERS PRICE GUIDE Transformerland's price guide is rapidly becoming one of the most widely used resource for pricing Transformers toys and other action figures. See market value trends over time with our real-time price histograms!
IDENTIFY YOUR TRANSFORMER TOYS Our toy, action figure, and parts identification tool helps you identify your unknowns rapidly by color as well as figure or part type. Includes Transformers, Gobots, TMNT, and many other popular toys!
LEARN MORE ABOUT TRANSFORMERS FROM OUR TOY COLLECTOR'S GUIDES The Transformers Collector's Guides (also available for Gobots, Masters of the Universe, Teenage Mutant Ninja Turtles, Diakron, and more!) provides a wealth of information about Transformers toys and other toy lines. Our guides complement other wiki sites in that we leave the fiction aside and keep a laser focus on the toys! See instruction scans, checklists, figure bios, toy reviews and videos, complete parts listings for each figure with Transformerland's all-in-one toy collector's resource.
Further reading of interest: