By 1984, the handwriting was on the wall. Transformers was the future of transforming robot toylines everywhere. Try as they might, Takara could no longer justify avoiding the introduction of the Robots in Disguise to the Japanese market. After all, they had all the brilliant engineering of Diaclone (not to mention Microchange), plus the benefit of a multi-million dollar marketing blitz that included character bios and a fully animated cartoon – all things even the most popular era of Diaclone never had the benefit of. Nevertheless, those at the helm of the Diaclone and Microchange lines kept flying their Jet Robo level, not wanting to change their trajectory based on the hunches of their Hasbro counterparts in the US. After all, Takara's own attempts to market their designs in 1983 and 1984 with Diakron and Kronoform had proven completely unsuccessful. In fact, they even continued to market Kronoform into 1985, using molds not requested by Hasbro, just in case. So it was that Diaclone continued in powered flight into 1985, even though the death knell had already been rung. New characters and decoes were released, new designs were drafted and prototyped, many eventually finding their first and only home in the skyrocketing Transformers franchise. These final months of Diaclone largely ran parallel with Transformers, with the same molds casting toys for both line in the same year. Early Transformers corresponded to multiple Diaclone variations, evident as both lines switched from the iconic "circle stamp" branding (a recessed circle containing the words TAKARA JAPAN) to the more common multi-line "創作・著作物 ©Takara Co. Ltd. 198X-198X" style copyright stamp. In keeping with these strong parallels, Diaclone abandoned all but a scant few designs that were not in its "Real & Robo" theme. Fully none of the purely sci-fi designs would make it into Transformers, after all, and both lines realized and capitalized on the popularity of super robots becoming recognizable real-life vehicles and objects.
The story of the Diaclone universe not only continues in this final catalog, but is completely recollected in a massive two-tone inset, perhaps prescient of the end of the line. General Ingam has been put out to pasture for his failure to conquer Earth, and the brash young Blue Star schemes to enhance his strategy of summoning dinosaurs through time holes with a new mechanical dinosaur that is equipped to mind-control the unpredictable beasts and form more coherent and destructive attacks. Diaclone fights back under the leadership of their new Powered Convoy units. So report to your Team's Powered Convoy, and prepare to intercept the next Machine Dragon attack with Transformerland's high-resolution scans (click the image to view full size!) of the massive final Diaclone catalog!
Now, enter the world of
ダイアクロン
DIACLONE
Front Cover
タイアクロン
DIACLONE
DIACLONE ADVENTURE WORLD
This massive final cover does not disappoint with its beautifully painted art centered on Powered Convoy. The robot mode and the coloration of the trailer depicts an early pre-production design. The truck mode is loaded with Car Robots Fairlady Z, New Countach, Honda City R, and Porsche 935 Turbo, and flanked by the new Triple Changers Jet Type and Helicopter Type in five of their six possible modes. Note Powered Convoy's wildly different (single!) shoulder cannon and rifle, not to mention his alternate robot head, which bears ears reminiscent of his predecessor team leaders, Robot Base and Fortress Robot X.
Page 1-2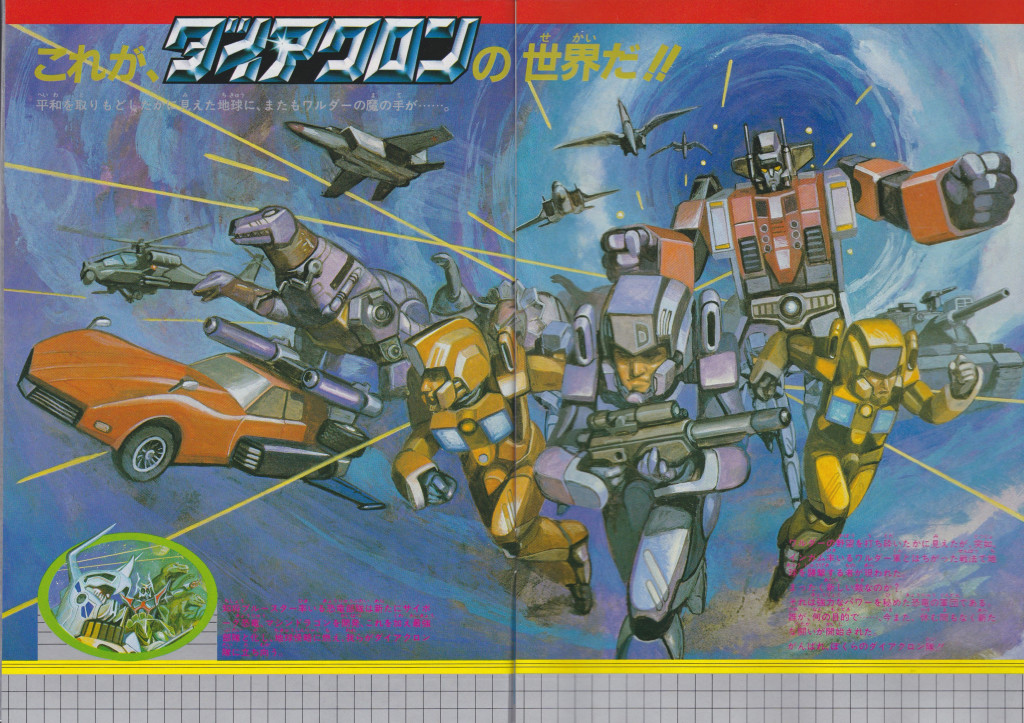 Page 1
This is the world of Diaclone!
The hand of the evil Waruder returned once again to Earth, which seemed to have regained peace…
[bottom left corner]
On Earth, the dinosaur troops led by Blue Star developed a new cyborg dinosaur, Machine Dragon, and use it to create the strongest force to set Earth ablaze with invasion, and we, the Diaclone Corps, face them.
Page 2
It seemed that the ambition of Waruder had apparently broken, but suddenly there appeared a foe who attacked the Earth with a tactical strategy different from the Waruder Army led by Ingam. It was a dinosaur corps with tremendous power. Who? For what purpose?… Now, without a reprieve, a new battle had begun!!
The first spread is a traditional two-page art spread featuring all of the newest figures. We see again the pre-production design Powered Convoy, the Dinosaur Robo, the new Triple Changers, and the final Car Robots design: Corvette Stingray. Leading the way are three humans in Type 3 Diaclone personnel suits (now known as Dia-Nauts). Inset in the bottom left corner is art of Blue Star with his dinosaur army, recycled from the previous 1984 catalog.
Page 3-4
Page 3
Change Combine Series
建設車ロボ Construction Vehicle Robo
Build Combine 6-Part Set
Six types of construction robots were developed for rebuilding cities destroyed by Waruder. In case of emergency, they can each change to a robot! Six members also combine into a large robot!!
No. 1 Bulldozer
Height 6.2 meters
Speed 230 km/h
Maximum output 1023 horsepower
No. 2 Power Shovel
Height 6.8 meters
Speed 250 km/h
Maximum output 1008 horsepower
No. 3 Shovel Dozer
Height 6.4 meters
Speed 255 km/h
Maximum output 995 horsepower
Page 4
6-Part Power Combination Robo!
*With diorama base!
No. 4 Truck Crane
Height 6.9 meters
Speed 255 km/h
Maximum output 1130 horsepower
No. 5 Dump Truck
Height 6.3 meters
Speed 255 km/h
Maximum output 1235 horsepower
No. 6 Concrete Mixer
Height 6.5 meters
Speed 270 km/h
Maximum output 973 horsepower
The 6-Part Power Combination Robo is again a big player, and this catalog has the benefit of actually having production toys available. The right is adorned by the character art that would be retouched to make the box art for G1 Devastator, and the left has the final character art for the individual members. Below are actual production figures, though an actual toy in combined mode is nowhere to be seen. Below each figure are the oft-fanciful power and speed ratings for each mecha (a Bulldozer that can do 230 km/h? Come on). The inset depicts the blow-molded play base with cardboard backdrop and cardboard girders that were available with the giftset variants of the Construction Vehicle Robo. Interestingly, while 1985 featured a totally new color scheme for the Construction Vehicle Robo giftset (this very catalog was sourced from such a set), the toys featured here use the earlier deco. Reference pages 9-10 of the previous catalog to see the massive updates made between prototype and production!
Pages 5-6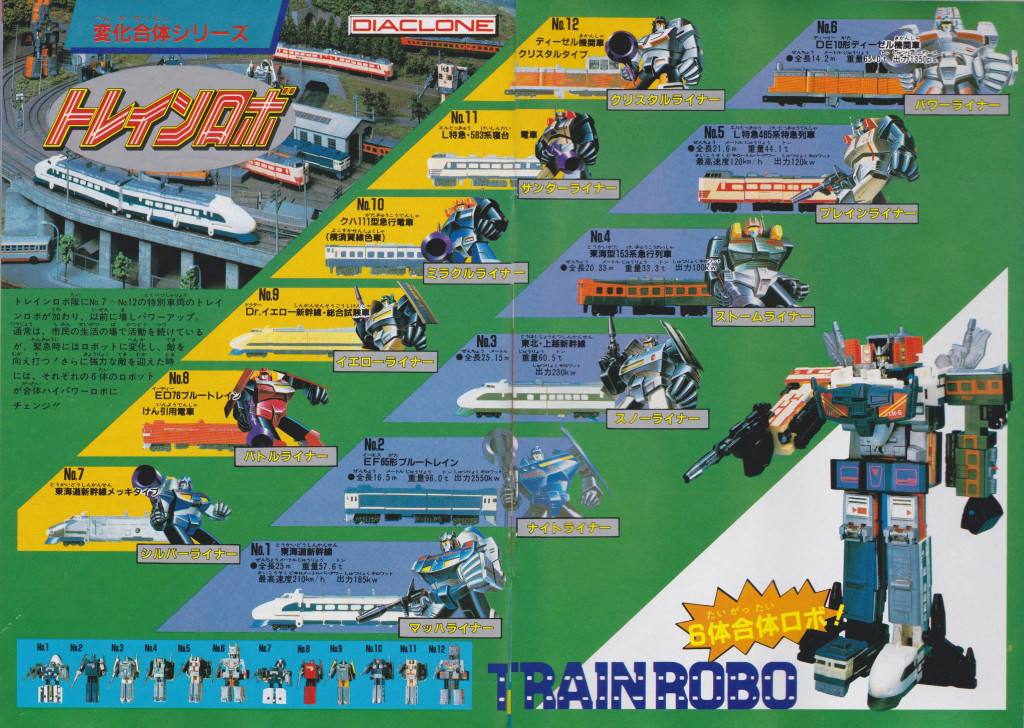 Page 5-6
Change Combine Series
トレインロボ Train Robo
Train Robo Corps are joined by No. 7 – No. 12 Special Vehicle Train Robo, which have even more power than before. Normally, they continue to work in civilian places, but in case of an emergency they can change to a robot and strike the enemy! When a more powerful enemy appears, the six robots change and unite into a high power robot!
No. 12 DE10 Crystal Type Diesel Locomotive
No. 11 Limited Express Type 583
No. 10 Kuha Type 111 Express Train (Yokosuka Line colors)
No. 9 Dr. Yellow Integrated Testing
No. 8 ED67 Blue Train Freight
No. 7 Tokaido Shinkansen Plated Type
No.6 DE10 Diesel Locomotive
-Overall length 14.2 meters Weight 65 tonnes Power 1350 PS [Pferdstärke – a German unit of metric horsepower]
No. 5 L Express 485 Series Limited Express Train
-Overall length 21.6 meters Weight 44.1 tonnes Power 120 kW
No. 4 Tokai System Type 153 Express Train
-Overall length 20.33 meters Weight 33.3 tonnes Power 100 kW
No. 3 Tohoku and Joetsu Shinkansen
-Overall legnth 25.15 meters Weight 60.5 tonnes Power 230 kW
No. 2 EF65 Blue Train
-Overall length 16.5 meters Weight 96.0 tonnes Power 2250 kW
No. 1 Tokaido Shinkansen
-Overall length 25 meters Weight 5.76 tonnes Power 185 kW
6-Body Combination Robo!
TRAIN ROBO
This spread shows us all twelve of the Train Robo combiner teams, including a good view of the Special Color set, each paired up with its regular counterpart of the same mold. Unlike Construction Vehicle Robo, we get almost all modes of production toy photography, lacking only the Special Color trains in combined form (the robot modes are tiny and crammed in at the bottom left). Each Train Robo is also paired with its robot mode box art. It's interesting that the Special Color Train Robo have totally unique box art – no retouches of the regular figure's art. Also of interest are the factually correct statistics for each train's size and power. They've even rated the DE10 Diesel in metric horsepower instead of kilowatts like the electric engines. These seemingly well-researched statistics are a far cry from the 500 hp Honda city and 250 km/h excavators. I wonder, if the Astrotrain mold had made it into Diaclone, they would have given his Whyte notation and tractive effort?
Page 7-8
Page 7
可変戦隊トリプルチェンジャー Changeable Squadron TRIPLE CHANGER
Cavalry which measures as an anti-aircraft robot during the speed-up of battle.
In a fight on the ground, it demonstrates unbeatable power. The mobility as a tank is outstanding.
It functions at its highest peak as a fighter aircraft. It excels in speed and operability.
ジェットタイプ Jet Type
Picture caption:
Jet aircraft to tank and into robot. Helicopter to jet fighter and into robot. With 2 types of mecha, they change into 6 patterns of mecha!
Page 8
It has the latest in computerized internal components. It demonstrates its power in a strategic aspect. The Battle Robot is capable of utilizing battlefield intelligence.
In case of emergency, it can also fight at high speed as a jet!
Combat helis and transport helis are used in many purposes on the battlefield. It also has the advantage of being able to take off and land at any location.
ヘリコプタータイプ Helicopter Type
After the recap of our combiners, we see the all-new Triple Changers. The first, Jet Type (they BOTH turn into jets, why not "Tank Type"?) is instantly recognizable as the Decepticon Blitzwing, although advanced nerds will recognize the fetching green and white deco from the eHOBBY exclusive reissue, Overcharge. The character art, like Powered Convoy's, was obviously made without the benefit of completed production figures, as the head features a very different masked design. However, the differences are far less drastic. In the background, it would seem that the Jet Type flying in jet mode actually features a Soviet red star on the tailfin – accurate for a MiG-25 – though that may have been considered an edgy move in the US at the time. On the facing page is a less familiar design: the Helicopter Type. This thin and lithe design was not selected for Transformers despite checking all the boxes for making the transition. I can speculate all day on why Hasbro didn't requisition this one, but Western fans don't totally have to miss out here. One of the many knockoff companies jumping in on the robot craze of the 1980s produced a US-released KO of this figure.
Page 9-10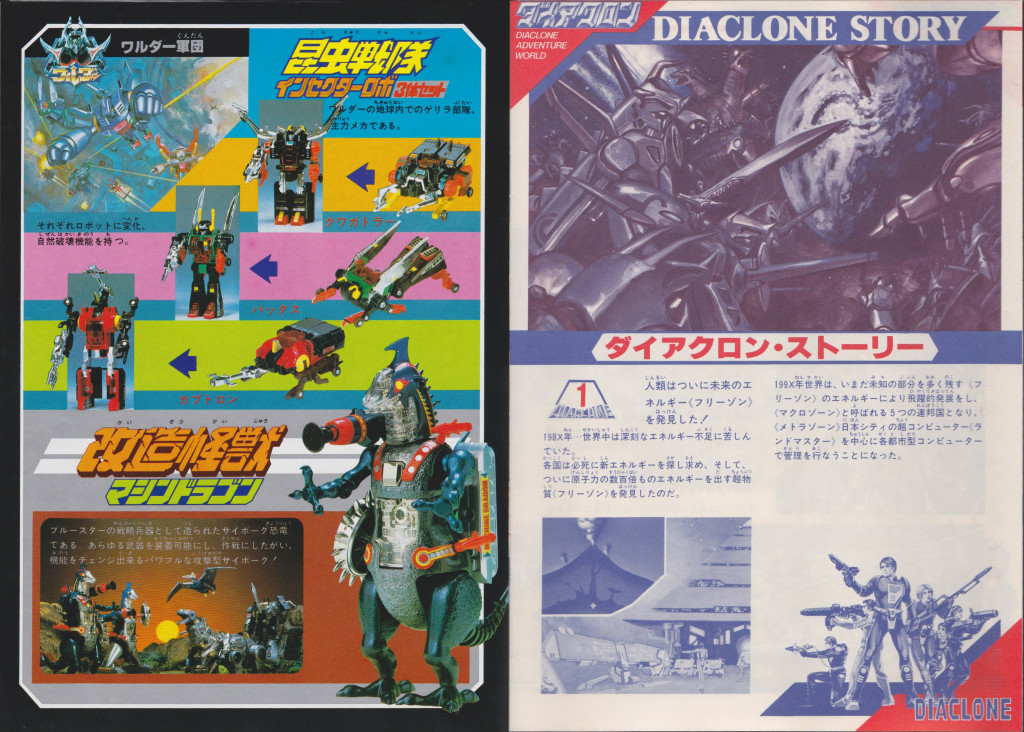 Page 9
Insect Squadron
インセクターロボ3体セット INSECTER ROBO 3-Piece set
The main mecha of Waruder's guerilla troops on earth.
Each changes to a robot, their function is naturally a force of destruction.
Kuwagatorer
Battas
Kabutron
Restructuring Monster
マシンドラゴン MACHINE DRAGON
It is a cyborg dinosaur made as Blue Star's strategic weapon. Able to mount any weapon according to the strategy, it is a powerful attack type cyborg that can change functions!
The last color page before the fold shows the available Waruder-aligned sets, Insecter Robo 3-Piece Set and Machine Dragon. The Insecter Robo debuted in 1984 (though depicting handcrafted prototypes), but this catalog seems to place emphasis on the giftset available. While the single-packed Insecter Robo included unique Waruder pilots recolored from Warudaros, the giftset did away with the figures, perhaps to reduce the overall cost of purchasing the figures this way. Of course, Transformers fans recognize these as the iconic Insecticons, but like Overcharge, these particular decoes were available in 2004 through eHOBBY as the Insectron Clone Army. Kuwagatorer would be referenced again in 2016 as the BotCon exclusive Zaptrap. Below, we have the final Waruder figure: Machine Dragon. This figure hails from Takara's Magnemo toy Magneborg (magnet+cyborg) Machine Saurer. It feels a little shoehorned in, but it's likely Takara did not want to invest in another villain toy design that couldn't be reused in Transformers. The facing page marks the beginning of a separate journal of thinner, non-glossy paper bound in the middle of this catalog, which recaps the entire Diaclone story thus far. It features mostly recycled artwork from previous catalogs, until some newer line drawings for later chapters. Given the walls of text in this section, I'll suspend commentary as much as possible and let you read uninterrupted.
Page 10
DIACLONE STORY
1 Humanity finally discovered the future energy "Freezon!"
Year 198X… We suffered from a severe energy shortage all over the world. Every country inevitably looked for a new source of energy, and finally discovered the super-substance "Freezon" that produced hundreds of times more energy than nuclear power.
By the year 199X, the world was a five-country federal state called "Macro Zone", which was highly developed by the energy of "Freezon", though much was still unknown. It was decided that the supercomputer "Land Master" centered in Japan City would manage each other urban supercomputer.
The beginning, from 1980 story
Page 11-12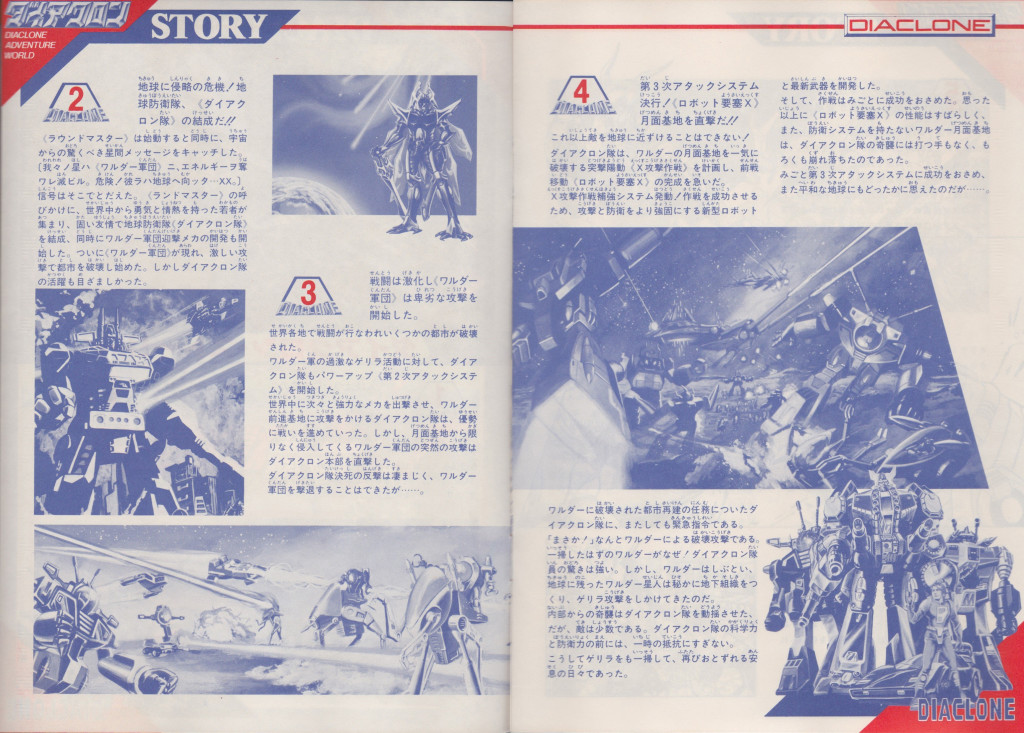 Page 11
2 The crisis of the invasion of Earth! Earth's defense army, "Diaclone Corps", is formed!!
Just as "Land Master" started up, it received an amazing message from interstellar space! "Our star has been destroyed by the dangerous Waruder Army… They are headed to Earth…xx" The signal stopped there. "Land Master" called for young men with courage and enthusiasm from all over the world to gather in friendship to form the Earth defense corps "Diaclone Corps", and it also started developing mecha to intercept Waruder Army at the same time. Finally, Waruder Army arrived and began to destroy cities with their violent assault. However, the actions of Diaclone Corps were remarkable.
3 The battle intensified as Waruder Army started a craven attack.
Fighting broke out all over the world and several cities were destroyed. Diaclone Corps also began to power-up the "Second Stage Attack System" against the extreme guerilla activities of Waruder Army. The Diaclone Corps attacked the Waruder Advanced Base from all over the world with cooperating mecha, mainly as a superior power in the battle. However, a sudden attack from the Waruder Army that had infiltrated from the Lunar Base hit Diaclone headquarters directly. The counterattack from Diaclone Corps was fierce, and was able to repel the Waruder Army.
Page 12
4 Third Stage Attack System activated! "Fortress Robot X" directly hit the Lunar Base!
Enemies could no longer be near the Earth! Diaclone hurried to complete the explosive assault "X Attack Strategy" which destroyed the moon base from a distance. X Attack Strategy needed new reinforcements to be activated. In order to make the new strategy successful, a new type of robot was developed with increased firepower and defense. The strategy was successfully executed. The performance of "Fortress Robot X" was more wonderful than expected, and the Waruder Lunar base, which did not have a defense system, had no chance and rapidly crumbled under the surprise attack of the Diaclone Corps. It seemed like the Third Stage Attack System was successful, and Earth was peaceful again…
Diaclone Corps was also an emergency command responsible for the urban reconstruction of the destruction caused by Waruder.
"No way!" How could it be Waruder! The Diaclone personnel were shocked. However, the tenacious Waruder invaders remaining on Earth secretly ransacked the land, using only guerilla attacks. They surprisingly disrupted Diaclone Corps behind the lines, with only a few enemies. Against Diaclone's science and defensive forces, there was only temporary resistance. Thus, the guerillas were defeated and the days were restful again.
Part 2: 1981, Part 3: 1982, Part 4: 1983
Page 13-14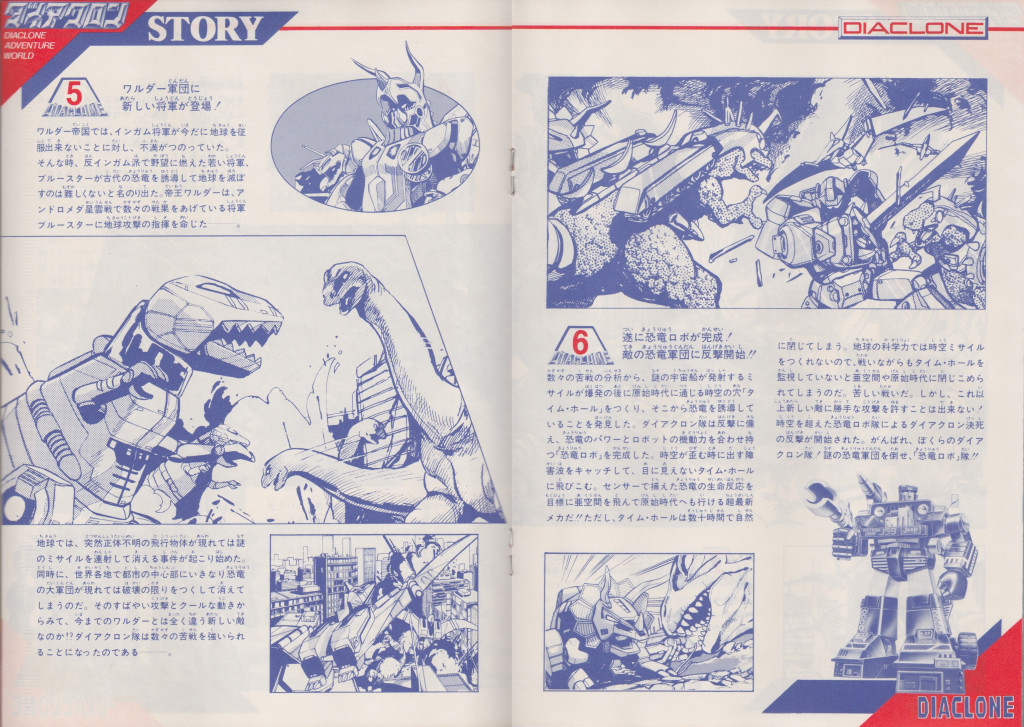 Page 13
5 A new general appears in Waruder Army!
In the Waruder Empire, there were complaints that General Ingam still had not conquered Earth. Thus, a young general in the anti-Ingam camp, Blue Star, proclaimed that it would not be difficult to use ancient dinosaurs to destroy the earth. Emperor Waruder ordered that General Blue Star, who had long experience with warfare in the Andromeda nebula, command the Earth assault.
On Earth, an unidentified flying object suddenly appeared, fired a mysterious missile, and disappeared again. Simultaneously, a large army of dinosaurs appeared suddenly in the center of cities around the world, and disappeared when the destruction was complete. Considering the quick attack and rapid movement, was this a new enemy, completely different from the old Waruder!? The troops had to struggle terribly…
Page 14
6 Finally the Dinosaur Robots are completed! They fought back against the enemy dinosaur army!
Analysis of a number of catastrophes found that missiles launched by the mysterious spacecraft created a "time hole" in spacetime connecting to the prehistoric era, and guiding the dinosaurs here. Diaclone Corps completed the "Dinosaur Robo" which have the power of a dinosaur and the mobility of a robot, and prepared a counterattack. They detected the disruption waves emitted by the distortion of spacetime and jumped into the invisible time hole. The ultra-modern mecha could fly through subspace to the prehistoric age and react to the life signs of dinosaurs picked up by their sensors!! However, the time hole would close naturally in dozens of hours. Because the advanced science of the spacetime missiles could not be replicated, if the Dinosaur Robo did not monitor the time hole while fighting, they would be trapped in subspace or the prehistoric age. It was a bitter fight. However, the opportunistic attacks of any new enemies must be prevented! The do-or-die counterattack through spacetime of Diaclone's Dinosaur Robo began. Hang in there, our Diaclone Corps! Defeat the mysterious Dinosaur Army, "Dinosaur Robo" Corps!
Part 5-6: 1984
Page 15-16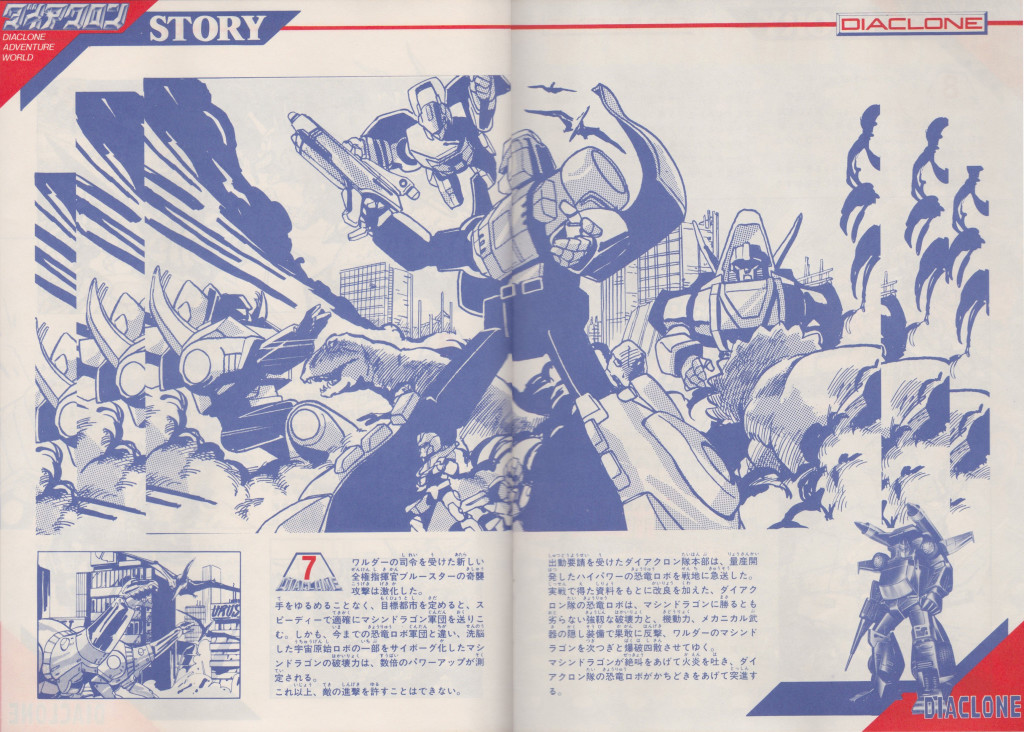 7 Waruder's surprising new commander, Blue Star, takes command and intensifies the surprise attacks.
Without letting up, the target cities are chosen, and Machine Dragon armies are quickly sent accordingly. Moreover, unlike the Dinosaur Robo Corps, a part of the destructive power of Machine Dragon is brainwashing primitive robo into cyborgs, powering them up several times over. Moreover, this enemy cannot be forgiven. Upon receiving the call, Diaclone Headquarters developed a mass-produced high-power Dinosaur Robo to dispatch to the battleground. Diaclone's Dinosaur Robo, which was improved based on experience obtained in battle, counterattacked with fearsome power and mobility, boldly fighting with mechanical weapons and hidden equipment, blowing up Waruder's Machine Dragons. Machine Dragon screamed and blazed, as Diaclone Corps' Dinosaur Robo gathered speed and charged.
Part 7: new story
Page 17-18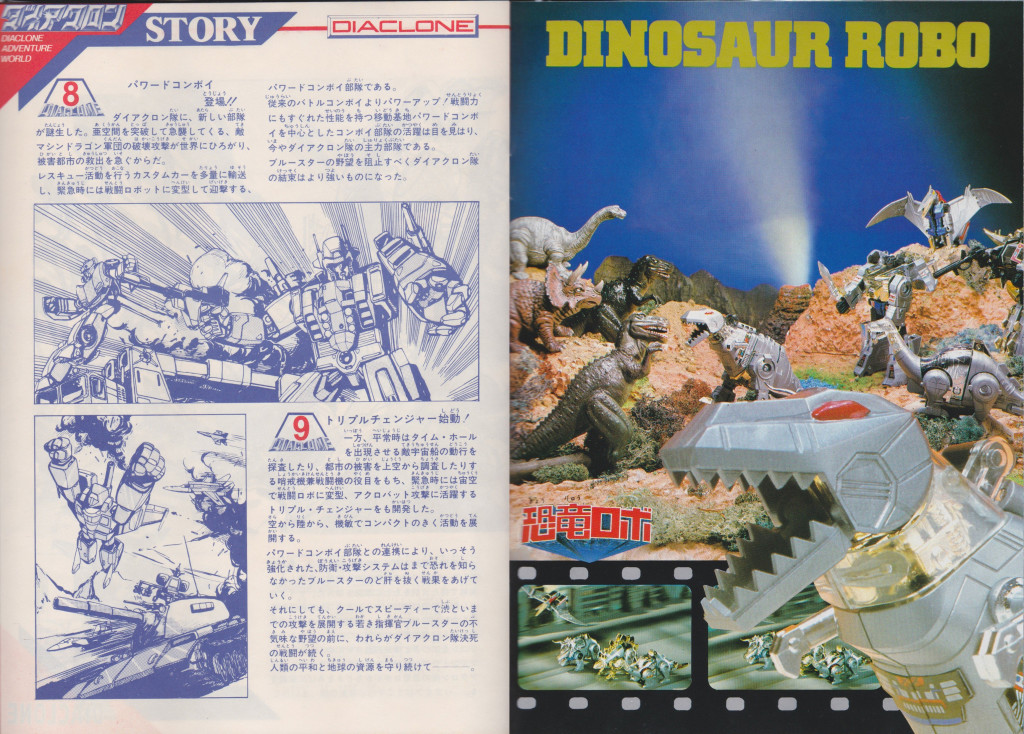 Page 17
8 Powered Convoy appeared!!
A new troop was created in the Diaclone team. It could break through subspace to raid, spread destruction to the Machine Dragon armies around the world, and rush to rescue damaged cities. Powered Convoy transports many custom cars that can perform rescue activities, and in case of emergency, Powered Convoy can change to a robot and intercept. The traditional Battle Convoy is powered up! The activities of the Convoy troops center on the mobile base with superior strength and combat performance, which is now the main force of the Diaclone team. The unity of the Diaclone team became even stronger to halt the ambitions of Blue Star.
9 Triple Changers begin!
Normally, they are a patrol aircraft and fighter aircraft that track the movement of the enemy spacecraft that make time holes appear and investigate the damage to cities from above, but in an emergency, they were developed to change into an acrobatic robot to battle in the sky. In the sky or on land, their activity is agile and compact. Through cooperation with Powered Convoy units, the enhanced attack and defense systems will improve combat outcomes in expelling Blue Star's forces. Even so, the young commander develops cool, speedy, and stringent attacks now, but Diaclone Corps will continue to battle to the death to stop the ominous ambitions of Blue Star. Diaclone will continue to protect the peace of mankind and Earth's resources…
Part 8-9: final part(?) of the Diaclone story. Page 19 returns us to the product catalog portion, with a nice shot of the Dinosaur Robo battling Machine Robo' brainwashed ancient dinosaur army.
Page 19-20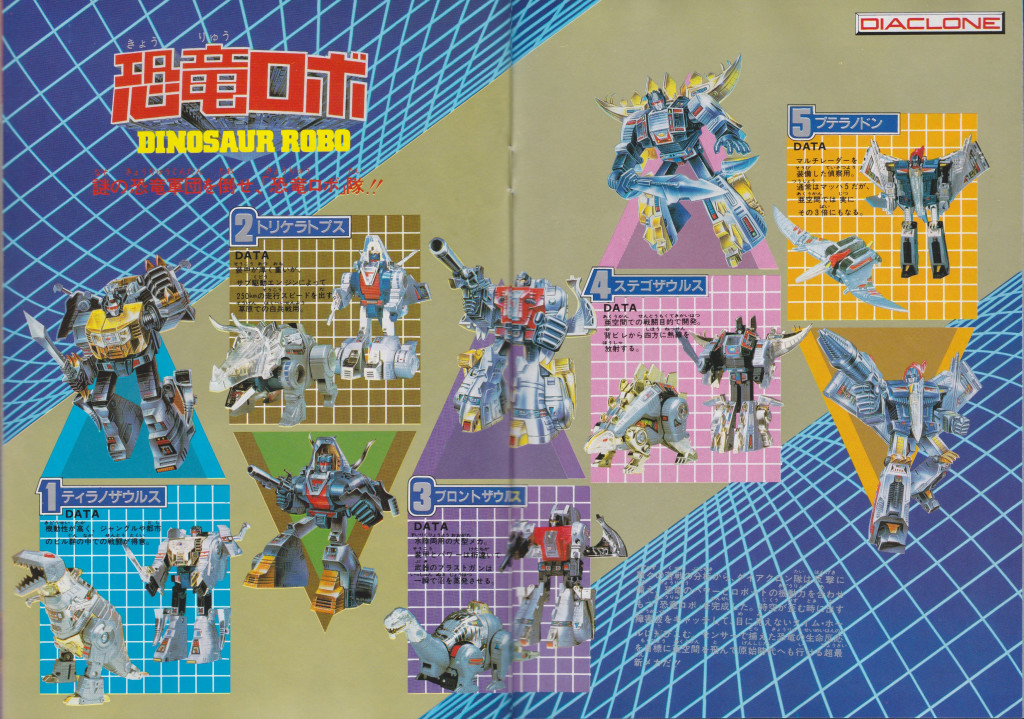 Page 19
恐竜ロボ Dinosaur Robo
1 Tyrannosaurus
DATA
Highly mobile, good at battle in the jungle and in urban cities.
2 Triceratops
DATA
Armor is thick and heavy, but for melee warfare in grasslands, can achieve speeds of 250 km/h with a Sub-Drive Engine.
3 Brontosaurus
DATA
A large amphibious mecha. Its armor and power are incomparable, and its Blast Gun beam weapon can evaporate a swamp in an instant.
Page 20
4 Stegosaurus
DATA
Developed for the purpose of combat in subspace. It spinal plates emit radiation in all directions during fierce fighting.
5 Pteranodon
DATA
Equipped with Multi-Radar for reconnaissance. Can normally go Mach 5, but in subspace can go three times that speed.
After analysis of a number of crises, Diaclone Corps completed the "Dinosaur Robo", which have the power of a dinosaur and the mobility of a robot, to prepare for a counterattack. They detected the disruption waves emitted by the distortion of spacetime and jumped into the invisible time hole. The ultra-modern mecha could fly through subspace to the prehistoric age and react to the life signs of dinosaurs picked up by their sensors!!
Behind the fold, we find the Dinosaur Robo. Of course, these are known to fans best as the Dinobots. We get the best of both worlds, with sizeable product shots and full-body character art. The interesting grid background matches the graphic design of the Dinosaur Robo toy packages, creating a nice parallel. The metallic sheen of the inks used doesn't come across in a digital image, but the gold field in the center of the page really stands out, evoking the gold chrome behind smoky gray plastic used on the actual toys.
Page 21-22
Page 21
カーロボット Car Robot
Armored Combination
パワードコンボイ Powered Convoy
The second model of the Convoy series is a car-carrier type trailer (Powered Convoy) burning rubber!
Page 22
With the success of Battle Convoy, today's battle capabilities have improved with a second developmental step, an ultra-powerful Car Robot that can not only change into a battle station, but also combine into a huge robot, was developed. It will become the main Diaclone mecha in future battles.
Truck changes to Car Robo! Combines into giant robo!!
Powered Buggy included!!
Can change into Buggy Robo!
Changes to various base types!
1 Battle Base
Also a starting base for Jet Robo
2 Maintenance Base
A Car Robo maintenance dock
3 Mobile Operation Base
Functions as a front-line command base
The star of this catalog is Powered Convoy, the tall, dark, and handsome predecessor of Ultra Magnus. This magnificent toy was released in three different varieties (in Japan): the regular set with silver plastic for the trailer, a "Mekki", or Plating, type with much of the trailer's silver covered in vacuum-metalized chrome, and the utlra-rare Powered Convoy DX set including a unique black New Countach and red Ligier JS11 F-1. The toy has since been homaged as a Transformers-branded reissue, Ultra Magnus Movie Preview Version, due to the blue/red/black deco appearing in an early trailer for Transformers: The Movie. More recently, this deco appears as Masterpiece Delta Magnus. Once again, the character art here seems to be of the pre-production variety, although a Japanese fan produced a custom figure demonstrating how the alternate deco would appear on a toy. (Scroll about halfway down this page.)
Page 23-24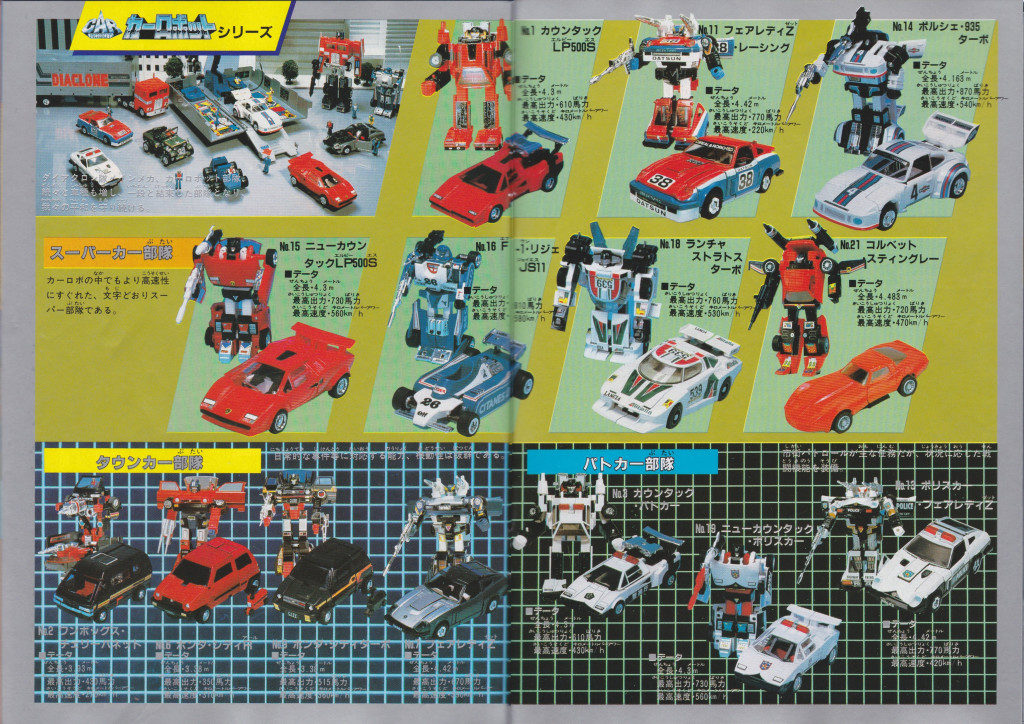 カーロボットシリーズ Car Robot Series
Diaclone Corps' main mecha, the Car Robot troops, are introducing new models one after another, becoming a more united unit, and continuing to keep the peace.
Super Car Team
Excellent at high-speed racing, it is literally a Super Team.
No. 1 Countach LP500S
Data Overall length – 4.3 meters Maximum output – 610 HP Top speed – 430 km/h
No. 11 Fairlady Z Racing
Data Overall length – 4.42 meters Maximum output – 770 HP Top speed – 220 km/h
No. 14 Porsche 935 Turbo
Data Overall length – 4.163 meters Maximum output 870 HP Top speed 540 km/h
No. 15 New Countach LP500S
Data Overall length – 4.3 meters Maximum output 730 HP Top speed 560 km/h
No. 16 F-1 Ligier JS11
Data [Overall length – 4.24 meters – a number not provided here] Maximum output 810 HP Top speed 580 km/h
No. 18 Lancia Stratos Turbo
Data Maximum output 760 HP Top speed 530 km/h [I couldn't even find the real length of the Stratos Turbo!]
No. 21 Corvette Stingray
Data Overall length – 4.48 meters Maximum output 720 HP Top speed 470 km/h
Town Car Team
A force able to respond to everyday incidents, their mobility is outstanding
No. 2 Onebox Cherry Vanette
Data Overall length – 3.93 meters Maximum output 430 HP Top speed 270 km/h
No. 6 Honda City R
Data Overall length – 3.38 meters Maximum output 350 HP Top speed 310 km/h
No. 9 Honda City Turbo
Data Overall length – 3.38 meters Maximum output 515 HP Top speed 360 km/h
No. 7 Fairlady Z
Data Overall length – 4.42 meters Maximum output 670 HP Top speed 430 km/h
Patrol Car Team
Patrolling the city is their main function, but they're also equipped with battle capabilities when the situation calls for it.
No. 3 Countach Patrol Car
Data Overall length – 4.3 meters Maximum output 610 HP Top speed 430 km/h
No. 19 New Countach Police Car
Data Overall length – 4.3 meters Maximum output 730 HP Top speed 560 km/h
No. 13 Police Car Fairlady Z
Data Overall length – 4.42 meters Maximum output 770 HP Top Speed 420 km/h
The reason most of us found out about Diaclone to begin with: The Car Robots. Rendered here, in full production quality, is nearly every version of the most recognizable pre-Transformers. Interestingly, Takara have decided to divide the large number of figures into groupings based on their apparent function, though I do not know of any other time these Team groupings are mentioned in official material. Of course, Car Robot advertisements wouldn't be complete without fantasy power and speed ratings, although for some reason the Fairlady Z racing type is the slowest by almost half, getting smoked in the straightaway by a 170 mph compact passenger van!
Page 25-26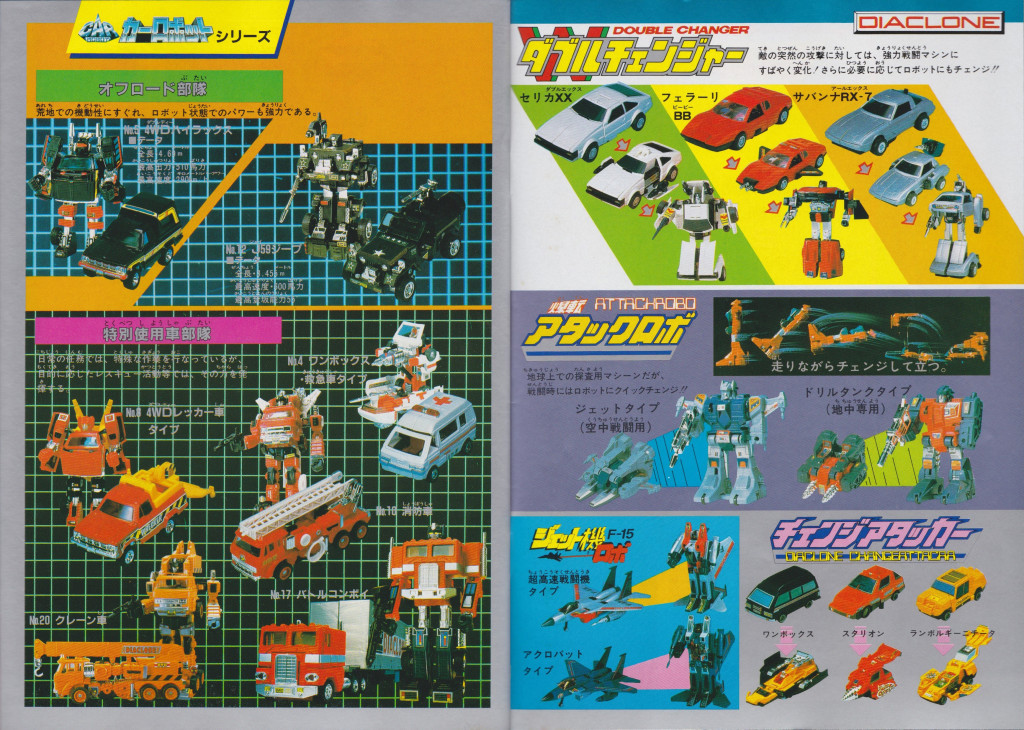 Page 25
Off-Road Team
Incredible mobility in the wasteland, also very powerful in robot form.
No. 5 4WD Hilux
Data Overall length – 4.69 meters Maximum output 510 HP Top Speed 290 km/h
No. 12 J59 Jeep
Data Overall length – 3.455 meters Maximum output 600 HP Highest hill-climb 55°
4 Special Purpose Vehicle Corps
They carry out special operations in daily work, but can also demonstrate their power in rescue operations as needed.
No. 4 Onebox Ambulance Type
No. 8 4WD Wrecker Type
No. 10 Fire Engine
No. 17 Battle Convoy
No. 20 Truck Crane
Page 26
ダブルチェンジャー Double Changer
During enemy surprise attacks, they quickly change into cooperative fighting machines! They can also change to robots as necessary!
Celica XX
Ferrari BB
Savanna RX-7
爆転アタックロボ Baku-ten Attack Robo
Exploration machines on Earth, they quick-change into robots for battle!!!
They change while rolling and stand up.
Jet Type (for aerial combat)
Drill Tank Type (for subterranean use)
ジェット機F-15ロボ F-15 Jet Fighter Robo
Ultra-High-Speed Fighter Type
Acrobat Type
チェンジアタッカー Change Attacker
Onebox
Starion
Lamborghini Cheetah
The rest of the Car Robots and some other guys that are still available! Even Battle Convoy gets lumped into one of the unusual sub-Teams of Car Robots… Humble beginnings for the mighty Optimus Prime. The rest of the offerings, save the Attack Robo, are all Real & Robo categories. I'm sure you know by now why they outlived their peers from previous waves. Due to the huge number of figures still available, even after the purge of all non-realistic designs, this catalog does not feature the traditional recap spread of earlier years.
Back cover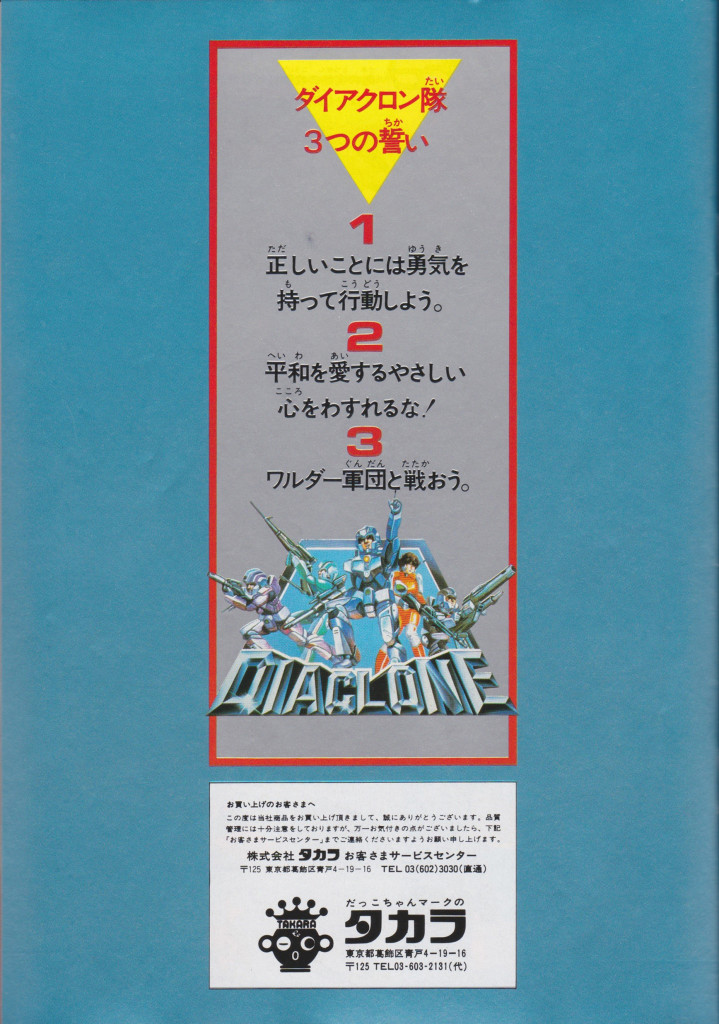 DIACLONE
Diaclone Corps three vows
1 It is right to try to act with courage.
2 Do not forget the friendly love for peace.
3 Let's fight the Waruder Army.
Six years on, we end where we began – the three vows. This masterpiece of a catalog does not disappoint, as there is all-new art of Diaclone Personnel posing in their Type 3 suits. Over 30 years later, the three vows would return, appearing on materials for Takara's adult-oriented Diaclone reboot line.
So concludes the final giant Diaclone catalog. The booklet itself is monstrously large, measuring nearly double the size of earlier productions, not to mention the page count. Though this project has been a huge amount of work, it needed to be done, as there has always been a great story here that needed to be told – not just the history of the Transformers toys, but the Diaclone universe, for its own merits. It is a classic tale of human ingenuity and resilience in the face of hostile adversity that begs to be told in an anime or on a silver screen, but it is told here. It has been a great privilege to be the one to tell this story outside the islands of Diaclone's home, behind a thick veil of a difficult language. Even in this project, all the online translators and dictionaries still made peering through the structure and meaning of the Japanese language as clear as mud. I have tried to be faithful to the original spirit of the text, capturing the idiosyncrasies of a story meant to be told to young children, the mixture of native Japanese idioms like "Ganbatte!" with English terms like "Powered Up".
I have built much of this project alone, with long hours of passionate work, but it would not have been possible without valued contributions from other members of the community. Several catalogs were generously scanned and submitted to me (as credited in the corresponding articles), I have taken pointers and advice on translating from others, and of course the patience of those in my life while obsess over advertisements for plastic robots. To all those who have taken the time to read along on this journey, thank you. May your own car one day turn into a giant robot.
-Ben Meier
<=PREVIOUS CATALOG | DIACLONE WIKI MAIN | END(?)